Exclusive
Janice Dickinson's Malibu Muscles Shimmer In Teeny Bikini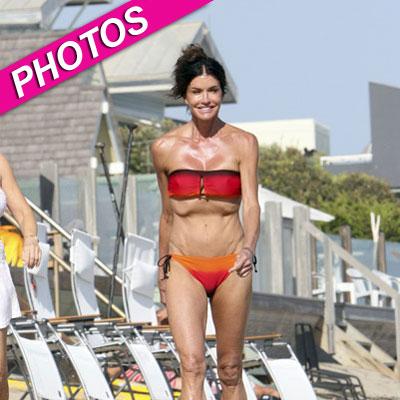 At 56, Janice Dickinson showed off a body women half her age would kill for while prancing in her daring, teeny bikini on the shores of Malibu Monday.
With her hair in a bun, the sinewy one-time supermodel showed off her fit physique in a red and orange two-piece, highlighting her sleek legs, ample bust and chiseled abs.
Dickinson's currently dating 32-year-old British writer David Blakely, who she told OK! magazine things are getting serious with.
Article continues below advertisement
"We don't have to speak about getting married, but there's the Beyoncé song, 'If you like it then you better put a ring on it.'
She warned not to call Blakely "a toy-boy."
"That's a demeaning term -- look at Demi Moore and Ashton Kutcher ... call it what you want, but I'm in love!"
Dr. Frank Ryan Died From Head Injuries
Dr. Frank Ryan's Toxicology Report Showed No Sign Of Drugs When He Died
VIDEO: Dr. Frank Ryan Calls Heidi Montag A 'Hero' For Going Public With Her Plastic Surgery