Brandi Glanville On The Attack: 'Adrienne Maloof Is A Liar About Everything!'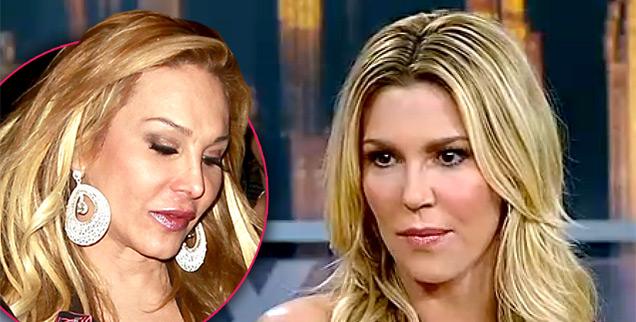 Article continues below advertisement
"After the first season, Adrienne tried her hardest to get me fired from the show," Glanville told GDNY co-hosts Greg Kelly and Rosanna Scotto.
"I took that very personally, and we started a little war. She put negative stories about me as a mother in the press, and she said negative things about my children and how I mother them, and so I took that very personally," she added.
Glanville explained that because Real Housewives is a reality show -- meaning the cast doesn't ever refer to it as being an actual TV program -- she couldn't say Adrienne tried to get her fired from it.
She said her anger towards Adrienne was why she, now famously, spilled a very personal family secret about Adrienne to her fellow cast mates, when Adrienne and her then husband, Dr. Paul Nassif, were not present.
When the anchors asked Glanville to repeat what she said, Glanville replied, "I can't say. I wish I could, but the lawyers got involved, and I'm not allowed to say what I said."
When the anchors said the secret involved something about Adrienne's children, Glanville again declined to elaborate, simply saying, "I don't know," but she did explain why she said what she said.
Article continues below advertisement
!
"I just wanted to show she (Adrienne) was a liar about everything. I wanted to discredit her and without saying she tried to get me fired from the show and that I was a bad mother."
Glanville said she and Adrienne have no relationship and that "it's not comfortable."
Although Glanville has publicly trashed her ex Eddie and his new wife LeAnn for weeks, she said, "I'm really trying hard not to bash them. This book is my final chapter on that."
However, she did say if LeAnn checks into rehab as she did for "stress and anxiety," as a mother, she needs answers since her two children are often with the country singer.
Drinking & Tweeting and other Brandi Blunders is in stores now.
The Real Housewives of Beverly Hills airs Mondays at 8/7c on Bravo.