Brandi Glanville Compares Her Enemies, Vows Adrienne Maloof Is Meaner Than LeAnn Rimes!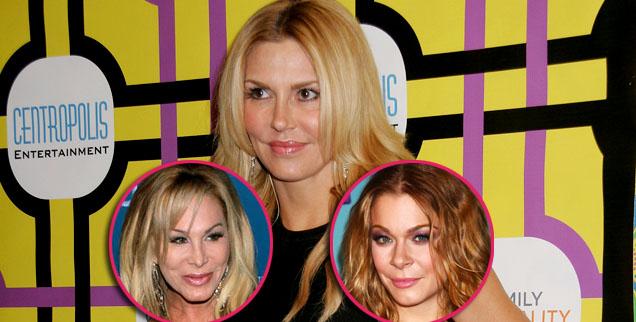 Brandi Glanville sure does make enemies easily!
The Real Housewives of Beverly Hills star is in an all-out war with both LeAnn Rimes and her reality TV nemesis Adrienne Maloof, and the new issue of Star magazine has exclusive details from Brandi on all the latest drama.
"I honestly think that Adrienne is meaner than LeAnn," Glanville reveals in an exclusive new interview with Star magazine.
Things have gotten so bad between the co-stars that Maloof has even threatened legal action against Brandi and Bravo to prevent certain comments Glanville has threatened to make ever airing on TV.
Article continues below advertisement
However, Brandi is not backing down and claims the threat was just her way of defending herself.
"I came back at her - she attacked me and my children and how I mother," she tells Star. "I take it very personally when people come after me as a mother, and I fight back."
Brandi has at least reconciled her friendship with Maloof's ex-husband, Paul Nassif, since their bitter stand-off.
"He called me after he and Adrienne split," she says. "Not only did he apologize for getting in my face on the show, he apologized for the things that Adrienne did to me.
!
"I really do think Paul is a good guy. He is realizing what he was married to."
For the full explosive interview with Brandi Glanville, pick up the latest issue of Star magazine -- on newsstands Thursday.