Adrienne Maloof & Paul Nassif Slam 'So Classless' Co-Star: 'Brandi Is A B*tch!'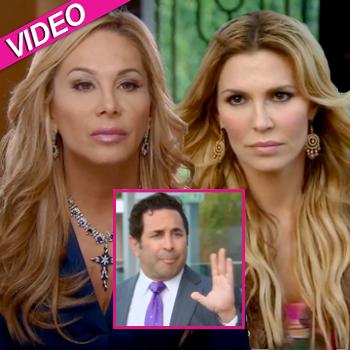 Article continues below advertisement
Although subsequently filing for divorce and embarking on a bitter custody battle over their two sons, Paul was still firmly on the side of his wife at the time of filming.
PHOTO: LeAnn Rimes & Brandi Glanville -- BFFs?
"Someone says anything about my family, I'm not going to take that lightly," Paul vows.
"Brandi crossed the line and hit below the belt," Adrienne says.
"I can't believe Brandi would sink to this level…this is absolutely so classless."
As Paul tells Adrienne that he wants to confront Brandi, she takes the opportunity to explain why she doesn't like her.
"This girl lies 24/7. She had too much time on her hands. She's not taking care of her own kids!" Adrienne charges.
Meanwhile, Paul is furious with Brandi, and starts the name calling.
"We just heard comments that that b*tch made. So I want to get out of here," he says.
Watch the video on RadarOnline.com
Article continues below advertisement