Adrienne Maloof Calls Lisa Vanderpump 'Very Childish' On RHOBH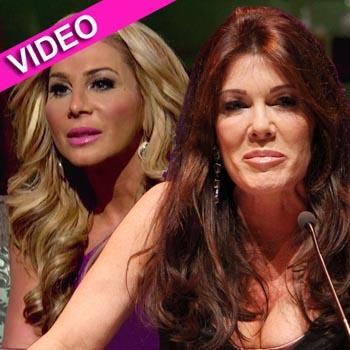 The Real Housewives of Beverly Hills adults were behaving worse than their children, with the housewives continuing their drama at a kid's birthday party and the husbands running around in high heels, and RadarOnline.com has the juicy details.
Kyle Richards had a fourth birthday party for her daughter Portia, and every one of the housewives was invited. Both Lisa Vanderpump and Adrienne Maloof knew that the other would be there, and with the bad blood overflowing, no one knew how the meeting would turn out.
Article continues below advertisement
"I am more than willing to apologize to Lisa. Is she gonna apologize to me? I don't think so," Adrienne admitted. "I had no idea she could be this immature."
Kyle, always the peacemaker, just wanted everyone to get along for this one day to celebrate her daughter's birthday, but made it known whose side she was leaning towards.
"I think Adrienne went too far in her argument with Lisa," Kyle said. "I understand Lisa being hurt, and I don't think Lisa owes Adrienne an apology in this argument."
Lisa arrived early to the birthday party, claiming that she had to leave early because she had a wine tasting at her restaurant Villa Blanca that she couldn't get out of.
"I really thought that Portia's birthday party was neutral ground," Kyle said. "A perfect place for Lisa and Adrienne to say 'Hi, how are you?' and just break the ice and put all this ridiculousness behind them."
Kyle even tried to set up a dinner at her house on a later date for Lisa and Adrienne to call a truce, but Lisa didn't see the point.
Article continues below advertisement
"It's nobody else's business. I think that's when things go awry, when other people step in," Lisa said. "I know she means well, but this is between Adrienne and I. End of story."
Meanwhile, Taylor Armstrong had asked Kyle's husband Mauricio Umansky and Adrienne's husband Paul Nassif to walk a mile for a domestic violence charity…in high heels!
The event was the same day as Portia's party, but the men reluctantly agreed to walk for charity.
"I'm really proud that Mauricio offered to be there for Taylor," Kyle said. "But if he doesn't make it back in time for Portia's party, that high heel is gonna be right up his ass."
Mauricio and Paul painfully cursed their way through the one mile walk, just barely.
"My feet were not meant to walk in high heels," Mauricio complained. "I don't think anybody's feet are meant to walk in high heels, and a choice of doing that is just a BAD choice."
Article continues below advertisement
When Adrienne and Paul finally arrived after the charity event, they weren't buying Lisa's story about having a wine tasting.
"It's a little difficult for me to believe. I just think she's trying to avoid me," Adrienne claimed.
Watch the video on RadarOnline.com
"To have her still making it such a huge issue, I would think that somebody as busy as her would've moved on a long time ago. It's very high school and very childish."