Adrienne Maloof Gets Husband Paul Nassif Into High Heels For RHOBH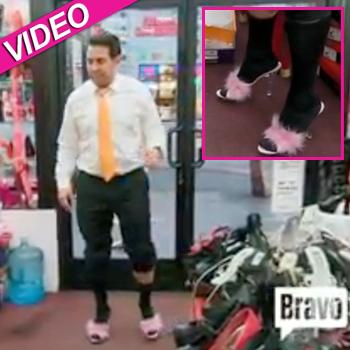 Before their shocking split and allegations of abuse, The Real Housewives of Beverly Hills couple Adrienne Maloof and Dr. Paul Nassif were often smiling, laughing and doing goofy things together for the cameras.
One of those scenes, shot before their August separation, has Paul trying on high heels, and can be seen in Monday night's episode of the Bravo series.
The couple goes to a shop called Maya's, searching out the perfect pair of heels Paul could wear in a charity walk.
Article continues below advertisement
Adrienne finds the whole situation a laugh riot but then says she's worried about how well her husband walked in women's shoes!
As RadarOnline.com reported, after weeks of allegations, anger and requests for restraining orders, Maloof and Nassif have reached financial and custody agreements.
Watch the video on RadarOnline.com
Their divorce will become final early next year.
The Real Housewives of Beverly Hills airs on Bravo on Monday nights at 9/8c.