Exclusive
Tantrums, Tears & Walk Offs! All The Insane Drama From The Real Housewives Cast Reunion Party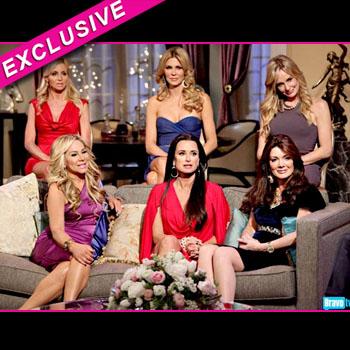 Article continues below advertisement
"Adrienne decided at the last minute that she wanted to attend. Adrienne and Paul had just announced their separation and Adrienne didn't know if she wanted to be around fellow housewives Lisa Vanderpump and Brandi Glanville as they had been so mean to her during filming," the source previously told RadarOnline.com. "Adrienne was very raw and sad about the separation, but she held it together. She wanted to show the other girls that she wasn't afraid of them, and had nothing to hide."
Article continues below advertisement
"Lisa and Brandi essentially formed their own clique this season and Lisa had Brandi do all of her dirty work," the show insider tells RadarOnline.com. "Lisa always says she doesn't have time for the drama, but Kyle Richards confronted her during the taping about her antics with Brandi. Kyle was also extremely upset that Brandi was caught having sex in her bathroom at her annual White Party. Brandi tried to say that she was only kissing the guy in the bathroom, but who does that? Kyle wasn't buying Brandi's explanation and thought it was just absolutely classless to behave like that."
"At one point during the party Brandi got very upset and felt that all of the ladies were ganging up on her. She started crying and stormed off. Of course, she came back after 20 minutes, with a lot of huffing and more tears. It seemed like she was only acting for the cameras, and whenever there was a break in shooting, Brandi became a very different person. Brandi was much calmer and less dramatic, and as soon as filming resumed, so did the acting," the insider claims.