Lisa Vanderpump Does Not Want Brandi's Sexcapades Exposed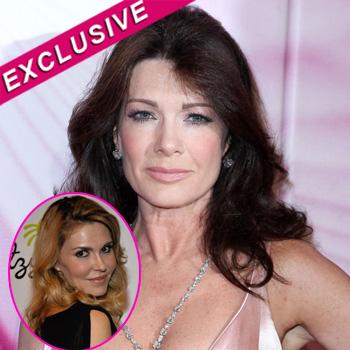 By Jen Heger - Radar Assistant Managing Editor
The Real Housewives of Beverly Hills appointed den mother, Lisa Vanderpump, has asked Bravo executive, Andy Cohen, to not air footage of her friend and fellow housewife, Brandi Glanville, in which she was caught having sex at Kyle Richards annual White Party, RadarOnline.com is exclusively reporting.
"Brandi was absolutely mortified that she got caught at the party having sex. Granted, it wasn't filmed, but cameras were rolling when Brandi was discovered having sex in the bathroom with another male party guest," a show insider tells RadarOnline.com exclusively. "It was extremely embarrassing for her, and she asked Lisa to implore Andy Cohen to make sure that the footage never airs. However, Brandi knew that cameras were at the party, and if she didn't want to get caught, she shouldn't have put herself in that situation to begin with."
Article continues below advertisement
As we previously reported, Brandi has earned the reputation of the show's bad girl and that night she shocked her co-stars with her casual tryst.
"Brandi was in the bathroom with a guy having sex when the girls caught her," multiple sources -- who all say they heard explicit noises coming through the bathroom door -- previously told RadarOnline.com.
"They couldn't believe that she was doing that and they were all stunned when they found her."
According to our sources, the Bravo reality show crew caught her too.
"The crew thought it was hilarious and would really make for great TV, but who knows if they'll ever air that," Radar was told.
Vanderpump boasts to her fellow housewives about how close she is with Andy Cohen. "Lisa hosted a book party for Andy's new book at Sur recently, and she was laying it on thick leading up to the event. Lisa is a very smart businesswoman and aligned herself very early on with the key executives at Bravo, and at the production company of the show, and she has leveraged that to get her own TV Show.
Article continues below advertisement
"The thing about Lisa is that she always presents herself as being diplomatic and doesn't have time for drama or controversy, which is absolutely laughable because she is the one stirring it up! This year she is just using Brandi to do her dirty work. Brandi should be very careful because Lisa will turn on her, it's only a matter of time," the insider said.
"Cohen didn't make any promises to Lisa but she thinks Andy will recognize that Brandi regrets the entire situation, and airing it would only humiliate her," the source reveals.