Exclusive
Child Protective Services Called In To Investigate Injury To Adrienne Maloof's Son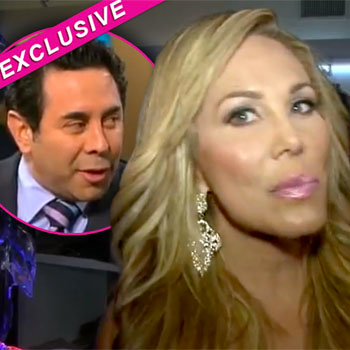 By Jen Heger - Radar Assistant Managing Editor
Child Protective Services has been formally notified that Adrienne Maloof and Paul Nassif's son, Christian, had three broken fingers when his Real Housewives of Beverly Hills star mother brought him to the emergency room at Cedars-Sinai Medical Center, RadarOnline.com is exclusively reporting.
"Anytime a child comes to the hospital and suffers a mysterious or hard to explain injury, Child Protective Services is immediately notified. In this case, because Christian suffered three broken fingers under mysterious circumstances, the attending physician in the emergency room reported the injury to Los Angeles County of Department of Children and Family Services. This is always done out of an abundance of caution, and is done for the safety and well being of the child, always. It is concerning that this is the second time that social workers have been notified about an incident involving Christian Nassif in the past two months," a source close to the situation tells RadarOnline.com exclusively.
Article continues below advertisement
As previously reported, Adrienne Maloof rushed one of her three sons, six-year-old Christian to the emergency roo at Cedars after he suffered the injury.
During the contentious divorce between Maloof and plastic surgeon Nassif, he was investigated by social workers from Los Angeles County of Department of Children & Family Services concerning allegations that he allegedly abused their three boys.
According to a sworn declaration from the couple's marriage counselor, Dr. Charles Sophy: "On Sunday, September 16, 2012, Adrienne called and told me about an incident involving Paul and the children that occurred on Thursday, September 13, 2012. Specifically, Adrienne told me that Paul and the children were in the car when Paul became angry in response to Collin kicking Christian's seat, and that he tried to hit the kids while they were all in the car."
Dr. Sophy interviewed the three children, with their parents permission, and he says in the declaration: "All three children appeared anxious and fearful. They are reluctant to share the details of what happened....I further learned that prior to my meeting with the children on Tuesday, a referral was made to the Department of Children and Family Services. I feel that DCFS is capable of determining the safety and risk issues to be mitigated and ensuring the children's safety and health."
Article continues below advertisement
Nassif was subsequently cleared of any wrongdoing, and it was determined he had not physically or emotionally abused his sons.
A preliminary report about Christian's "broken fingers was already taken by social workers at the hospital. Adrienne allowed hospital staffers to interview Christian, and she gave a brief statement of her summary of events. The report will be turned over to child protective services for follow-up, and they will definitely will want to talk to both Adrienne and Paul," the insider tells us.
Nassif filed for divorce in August, when he asked for joint custody of sons Gavin, 9, and 6-year-old twins, Christian and Collin, however Adrienne is fighting for primary custody.
The two reached an agreement on their financial settlement last week.
Calls seeking comment to reps for Maloof and Nassif weren't immediately returned.
RELATED STORIES:
Adrienne Maloof Gets Husband Paul Nassif Into High Heels For RHOBH