'Victim' Lindsay Lohan To Appear In New York Courtroom For Nightclub Fight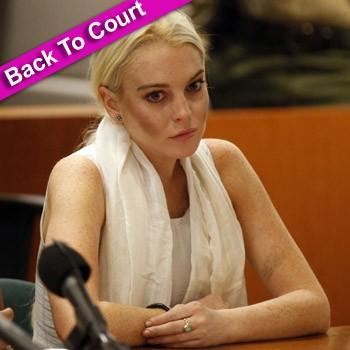 UPDATE: Prosecutors Monday delayed the hearing for Lindsay, saying "the investigation into the case is continuing."
***
Her attorney calls her the "victim." In any event,Lindsay Lohan -- who was photographed thispast weekend partying in London -- is scheduled to appear in a New York courtroom Monday to find out whether prosecutors plan to pursue charges against her in connection with a fight at a Manhattan nightclub.
Article continues below advertisement
The Liz & Dick star, 26, faces a misdemeanor assault charge for allegedly punching Tiffany Mitchell, 28, of Palm Beach, Florida at the trendy Avenue Lounge in Manhattan's Chelsea district in the early morning hours last November 29.
Lohan's New York lawyer, Mark Heller, told CNN back in November: "Once again, Lindsay Lohan is a victim of someone trying to capture their 15 minutes of fame."
"From my initial investigation, I am completely confident that this case will be concluded favorably and that Lindsay will be totally exonerated," Heller said of the scuffle.
Meanwhile, the New York incident isn't the only legal issue facing the troubled star, who's spent the last few years in-and-out of court. On Tuesday, January 15, she's scheduled to appear at a probation violation hearing in Santa Monica, California for allegedly lying to authorities when she said she was not behind the wheel of her Porsche when it rear-ended an eighteen-wheeler last summer.
The Mean Girls star -- who was on her way to the set of Liz & Dick, which she was filming at the time -- is accused of giving false information to a police officer, obstructing or resisting a police officer in performance of his duty, and reckless driving, according to the city attorney's office; all of the charges are misdemeanors.
At the time of the accident, Lohan was on probation for a 2011 conviction on charges she shoplifted a necklace from a boutique in Venice, California.
If Lohan is found to have violated her probation, she could face a lengthy stay behind bars.
As RadarOnline.com previously reported, Lohan has said she would never deliberately lie to cops, claiming she was confused after the accident.
Check back with RadarOnline.com for a complete wrap-up of Lindsay's latest court appearance.