Lindsay Lohan Drunk For Days & Depressed Over TV Movie Bomb Before Arrest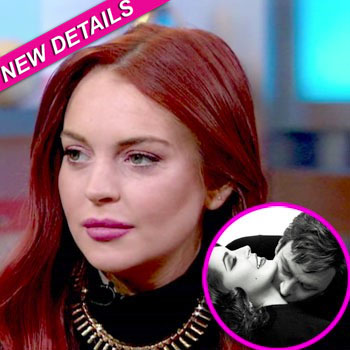 Article continues below advertisement
The news that Lindsay, 26, had been wasted for two days comes after RadarOnline broke thestory Thursday that she was drunk and had been doing cocaine immediately before the arrest.
"Lindsay was completely out of control. She was drinking way too much booze and was doing cocaine," an insider told RadarOnline.com.
Lindsay received scathing reviews for her TV movie about Liz Taylor and Richard Burton, setting off her latest bender.
As her new legal drama plays out, the never-changing dynamic pitting her father Michael Lohan against her mother Dina is also making headlines.
Lindsay is in "a dark place" in life, Michael told RadarOnline.com exclusively after the arrest. He says Dina has stymied his efforts to get their daughter help.
Dina, meanwhile, said she is "proud" of the connection her children share and said tough times make the family bond stronger.
Article continues below advertisement
But the only bond that may be relevant to Lindsay is the one she will have to post to get out of jail soon. Her latest legal woes are sending her back to a California court where she face probation violation charges from a misdemeanor necklace theft case.
And as RadarOnline.com reported exclusively, she is now hoping to avoid jail by going to rehab for six months, a move endorsed by many close to her.
Lindsay's manager and agent have been telling her for months that she must go to rehab to save her life," a source close to her told RadarOnline.com.
MORE ON:
hollywood happenings
Her latest arrest came after she slugged Florida psychic Tiffany Eve Mitchell, believing the woman stole her sister's handbag containing $10,000 in cash, according to the Post.
"Give me back my purse," Lindsay screamed at Mitchell, one eyewitness told the Post. But the purse was exactly where Lindsay had left it, the source said, adding the star "was too drunk to remember where it was."
Mitchell was at the club with her husband Wayne Stevens and a law enforcement source told the Post that Lohan pushed Mitchell and cursed at her and
Article continues below advertisement
Mitchell pushed back, as Stevens tried to calm the situation.
A very short time later Lohan walked over and punched the psychic in the face.
Steven told ABC about his wife: "She's all swollen."
Lindsay was charged with misdemeanor assault and sources close to her deny she was drunk, even going so far as to call her "a victim of someone trying to capture their 15 minutes of fame."
Lindsay's assistant Gavin Doyle broke ranks with the star after her arrest and tweeted: "@lindsaylohan after bailing you out last night I HOPE and PRAY you get the help you so desperately need." He later added: "Life is NOT a movie it's a reality that needs to be faced."