Sofia Vergara's Dress Torn After Arguing With Fiance At New Year's Eve Bash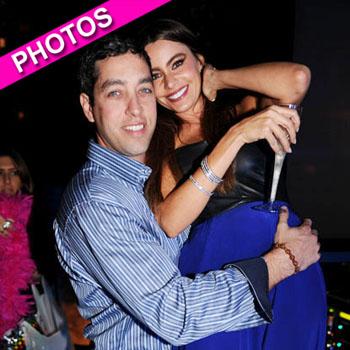 Sofia Vergara's latest wardrobe malfunction came after a New Year's Eve brawl involving her fiancé Nick Loeb, and we've got the pics for you right here on RadarOnline.com.
The Modern Family star's dress was ripped early Tuesday after she and Nick, who became engaged last July, headed to Miami nightclub Story -- which is owned by Sofia's former flame Chris Paciello -- after ringing in 2013 at the Delano hotel.
Article continues below advertisement
"Nick seemed tense around Chris, who was hosting them in the VIP section, even though he and Sofia are just friends," the insider told the NY Post. "In the early hours, Nick and Sofia were arguing before he got into a dispute with somebody at a neighboring table. Some pushing and shoving started.
"Sofia stepped in to try to calm the situation, but somehow she ended up getting pushed and shoved also. Her strapless dress was torn or pulled down in the melee, exposing her cleavage in front of other people and her son Manolo, who was so offended … he left the club. It was crazy."
The source said that security guards dragged Nick "out of the VIP section and threw him out of the club," as Sofia followed along.
Another insider told the paper that "things got pretty heated, but Sofia was never hit.
"Nick was pretty bruised from struggling with security," the insider said. "None of the drama was Sofia's fault, but despite the big scene Nick created, they made up outside the club, and she took him back to their hotel."