'Modern Family' Star Julie Bowen On Son's Life-Threatening Allergic Reaction: 'His Entire Face Swelled Up'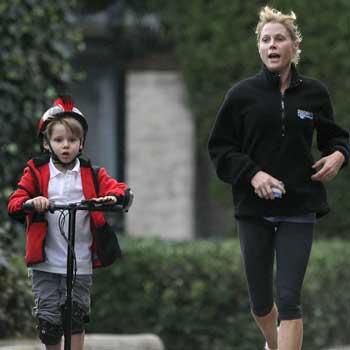 Julie Bowen has revealed that her oldest son suffered a life-threatening allergic reaction that caused his face to swell up.
"It was so scary. I immediately panicked," the Modern Family star told The Los Angeles Times about the terrifying family ordeal.
The Emmy-winning actress and her husband, real estate investor Scott Phillips, were terrified after their son Oliver, now 5, was stung by a bee while he was eating peanut butter. The boy went into anaphylactic shock.
Article continues below advertisement
Bowen remembered of Oliver, then almost 2 years old, "His entire face swelled up, his eye swelled shut and his lips became giant. We took him to the ER, where he was was treated with an EpiPen, and ever since then we've been vigilant about keeping him safe."
Now Bowen, who is also mom to three-year-old twin sons John and Gustav with Phillips, wants other parents to know how to look for various allergies.
"There's a whole list of things that can be triggers, from bees to nuts to even latex, and people don't know about a lot of them," she sighed.
Bowen now keeps Oliver safe with an EpiPen auto-injector, a device used to deliver a measured dose of Epinephrine, which treats anaphylactic shock. "If he has a play date, it goes in a backpack with him," she said.
RELATED STORIES:
Click Here To See The Hottest Bodies On Television -- Stripped Down!