Exclusive
Lindsay Lohan Desperately Trying To Hire New Attorney -- 'Loathes' Mark Heller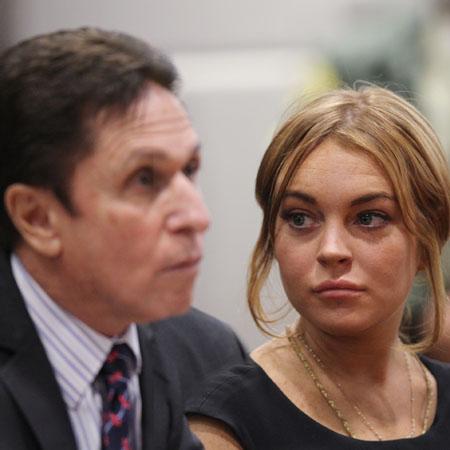 Lindsay Lohan is desperately trying to hire a new criminal defense attorney but the troubled starlet is having no luck finding new representation because she is broke and viewed by many as nothing but trouble, RadarOnline.com is exclusively reporting.
Lindsay despises her new attorney Mark Heller, a source close to the situation told Radar, and that has prompted her to actively hunt for a new lawyer.
Article continues below advertisement
"Lindsay has been on the phone calling criminal defense attorneys in Los Angeles trying to hire someone new to represent her," the source revealed.. "She absolutely loathes Mark Heller and doesn't feel confident that he can successfully represent her.
"Lindsay called Robert Shapiro, who represented her briefly several years ago, but he was unavailable. She called four other top notch DUI attorneys, and every single one of them turned her down - one even had his assistant call Lindsay back and say he wasn't interested."
Lindsay fired her long-time attorney Shawn Holley earlier this month and as Radar reported exclusively the actress owes her more than $300,000! Lindsay was represented by Heller on Wednesday in a Los Angeles court hearing where her next court appearance was set for March 18.
Now she's desperate to find a new attorney for the next saga of her never-ending legal woes.
"Lindsay is absolutely stunned that this is happening to her," the source said about the starlet being turned down repeatedly by top lawyers. "The attorneys have tremendous respect for Shawn Holley, and they know that Linsday owes her hundreds of thousands of dollars, therefore they want nothing to do with her."
Article continues below advertisement
Some of the lawyers view representing Lindsay as more trouble than its worth, the source said, and believe she will regret firing Holley for a long, long time.
During Lindsay's pre-trial hearing on Wednesday, Judge Stephanie Sautner confirmed with the actress that she did indeed want to drop Holley in favor of Heller for her latest legal quagmire – three counts of lying to cops following a car accident last summer.
Lindsay told the judge: "Yes, for today..." Judge Sautner told her this action was not just for Wednesday but applied to moving forward, and Lindsay tersely replied, "yes, going forward."
Heller's love for publicity is highly irritating Lindsay, the source told Radar. Heller is fond of holding press conferences, a maneuver Lindsay would rather her lawyers avoid.  "The only times Shawn talked to the media was often at Lindsay's urging because it was her rule to just lay it all out in court, and leave it at that," the source said. "Mark had another press conference yesterday after he met with prosecutors in the case."
Heller previously had his law license suspended five years for professional misconduct and Lindsay's father Michael Lohan has spoken out forcefully against Heller representing his daughter.
Judge Sautner set a pretrial hearing for March 1, 2013 and said that Lindsay is not required to be in court if her counsel appears and then set the trial date for March 18, 2013.