Exclusive
Lindsay Lohan 'Too Sick' For Court Appearance, But Source Says She's Been Partying Up A Storm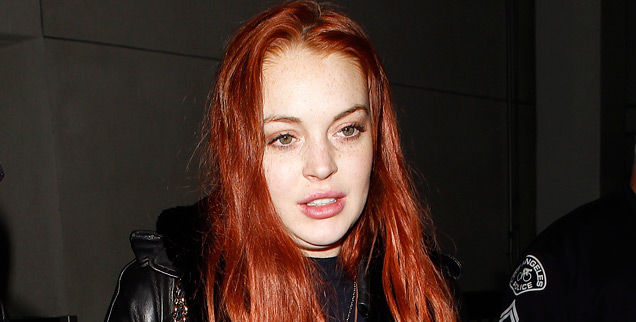 Lindsay Lohan is taking a huge legal gamble by claiming she is too sick to appear in her court-ordered pre-trial hearing on Wednesday, but RadarOnline.com has exclusively learned she has been partying non-stop recently!
"For someone claiming to be sick, Lindsay's partying hasn't slowed down in the least. Lindsay has been partying and boozing non-stop in New York City," a source tells RadarOnline.com exclusively.
Article continues below advertisement
"Lindsay has been hanging out with her usual cast of shady friends, and they have been wreaking havoc at swanky hotels in Manhattan. Lindsay doesn't appear to be sick, and photos reveal that she doesn't look like someone too gravely ill to travel."
The Mean Girls star was ordered to appear in a Los Angeles courthouse hearing for charges that she lied to cops in connection with the horrific car accident she was involved with last summer in Santa Monica.
Furthermore, if Lindsay, 26, isn't in court tomorrow morning, prosecutors will "immediately ask Judge Stephanie Sautner to issue a warrant for Lohan's arrest.
"This isn't the first time Lindsay has pulled a stunt like this. She claimed her passport was stolen in Cannes, France and failed to appear for an appearance for her DUI case," a law enforcement insider revealed.
"This isn't Lindsay's first trip to the rodeo, and she is just making a total mockery of the legal system."
MORE ON:
Celebrity Justice
Article continues below advertisement
Complicating matters is Lindsay's long suffering criminal defense attorney, Shawn Holley, has formally filed legal documents requesting that she be permitted to withdraw her representation of the troubled starlet.
Judge Saunter must sign off on it, and it appears that Lilo's new lawyer, Mark Heller, who is based in New York City, is having trouble obtaining a license to practice in California.
Heller has a checkered past and was suspended from practicing law for several years after being found guilty of professional misconduct.
If Judge Sautner determines that Lindsay violated terms of her probation from her necklace theft case for getting arrested last summer, she could face up to 245 days in jail.