Exclusive
Michael Lohan Slams Lindsay's New Attorney, Says She's Facing A One Way Ticket To Jail!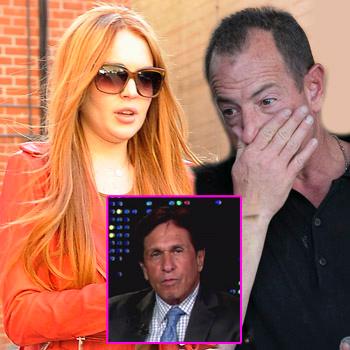 As Lindsay Lohan faces her legal troubles without her long standing high-powered attorney Shawn Holley by her side, her father Michael Lohan is railing against her new lawyer, telling RadarOnline.com exclusively that he believes his beleaguered daughter is in for a legal bumpy ride.
"Mark Heller??? Are you f*cking kidding me!!??" Papa Lohan exclaimed upon learning the identity of Lindsay's new legal counsel. "That no good sleezebag!"
Article continues below advertisement
Mark Heller previously acted as the divorce attorney for Michael Lohan's pal, Jon Gosselin, and as RadarOnline.com previously reported that his law license was suspended in New York for a period of five years.
The Supreme Court of New York, Appellate Division, found "a pattern of misconduct involving misrepresentation, deceit, abusive treatment of clients, fee gouging, neglect and willful failure to return unearned retainers to his clients."
The violations occurred between 1989 and 1992 and involved 12 separate clients, the document asserts.
Heller was ultimately found guilty of 18 violations, and he was suspended from 1994 to 1999.
Michael is certainly no fan of Heller and is seething over his daughter's decision to replace Holley with him.
"If Lindsay wants a one way ticket to jail, Heller is it!" He asserts. "No wonder he has the letters "Hell" in his name! He's the devil!"
Article continues below advertisement
Michael maintains that Holley was the best person to help his troubled daughter avoid serious legal consequences.
"After Shawn's loyalty, commitment and success as an attorney for Lindsay and others this is what she does? It's like comparing a nuclear war ( Shawn) and a battle ( Heller) what is she thinking, or is she not thinking at all! Just lends to what I have been saying about keeping away from the good people and running with the bad!"
Lohan, 26, is scheduled to appear in a Los Angeles courtroom at 8:30 a.m. PT Tuesday for a parole violation hearing.
Keep checking RadarOnline.com for the latest on this developing story.
***
UPDATE: Lindsay is not expected to appear in court now, and her 'fired' attorney Shawn Holly will be in court to represent her one final time. Story developing….