Lindsay Lohan's Legal Woes Continue -- Case Transferred To Judge Who Warned Her To Stop Nightclubbing!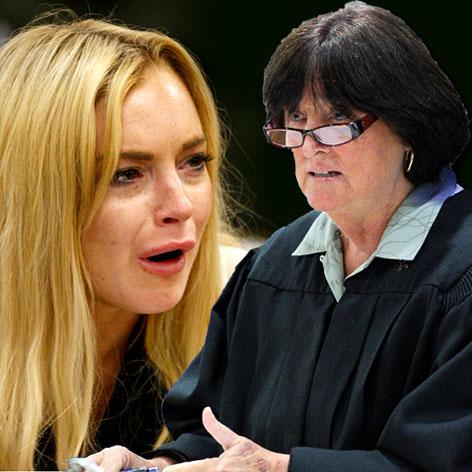 Lindsay Lohan's legal woes just got a whole lot worse, after her latest criminal case was transferred back to her old court room adversary, Judge Stephanie Sautner, RadarOnline.com is reporting.
Judge Sautner oversaw Lohan's probation on her past necklace theft case, and sternly warned the troubled 28-year-old at the end of their last encounter: "Live your life in a more mature way, stop the nightclubbing and focus on your work. I don't expect to see you again. You know what you have to do."
Article continues below advertisement
Unfortunately, Lohan did not take heed of the wise words, and as E! News was first to report, she will be face to face with the Judge once again on January 30, when she appears for a pretrial hearing relating to her latest criminal charges of lying to cops following a car accident last summer.
Judge Sautner previously found Lohan to be in violation of her probation for failing to comply with the terms of her community service after she failed to show on multiple occasions at a battered women's shelter in Los Angeles. Lindsay ultimately completed the terms of the probation, and had her final appearance (or so she thought!) in front of Judge Sautner last year.
As previously reported, Lohan's famed criminal defense attorney, Shawn Holley filed paperwork earlier this week to formally withdraw as the embattled star's counsel. Lohan has hired Mark Heller to represent her in her current case after the New York City based attorney acquired a temporary license to allow him to practice in California. Heller has a checkered past and was suspended from practicing law in New York for several years after being found guilty of professional misconduct.
Article continues below advertisement