Jenelle Evans: I'm Getting A Divorce ASAP!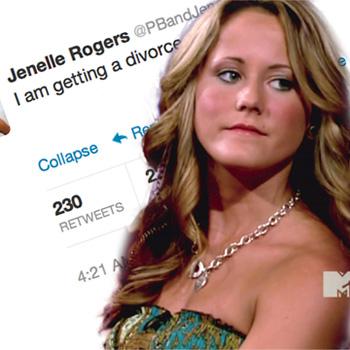 Pregnant Teen Mom star Jenelle Evans announced on Twitter Wednesday she's divorcing husband Courtland Rogers just 51 days after their shotgun wedding, after Courtland abandoned her Tuesday, the same day she was rushed to the hospital with fears she might have had a miscarriage.
"I am getting a divorce, ASAP. YOU F**KING LEAVE OUT OF TOWN AND I MIGHT BE HAVING A MISCARRIGE?! F**K U, U F**KING PIECE OF SH*T," the Teen Mom star tweeted early Wednesday. "I'm in shock … Going to chill with an old friend, lmao, finally now that I have freedom back …
Article continues below advertisement
We'll keep you posted with new details of this story right here on RadarOnline.com.
RELATED STORIES: