Exclusive
Is Jenelle Evans Back On Drugs? She Disappears For Hours In Middle Of The Night!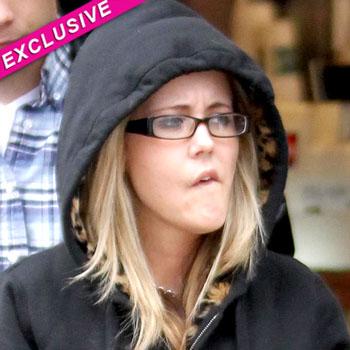 By Alexis Tereszcuk - Radar Entertainment Editor
Jenelle Evans' troubles never seem to be far away, and RadarOnline.com has exclusively learned that the reality star's recent actions have her friends and family terrified that she may be back on drugs!
The Teen Mom star suspiciously disappeared from her North Carolina home in the middle of the night, prompting her new husband Courtland Rogers to Tweet about his misery over the situation.
Article continues below advertisement
"Leaves at 3 am returns at 730 am where the f*ck did she go for four hours late night ??!yea I am done !!! F*ck this."
Jenelle's disappearance has people close to her frantic with worry.
"Jenelle struggles with drugs, which everyone knows, and when she disappears in the middle of the night we get terrified that she's using again," the source told RadarOnline.com.
"She doesn't always do the right thing and with Courtland freaking out we started to get really worried that she's back on drugs."
In her own defense, Jenelle claimed she was with her friend Tori and they did a video chat on Stickam, writing on her own Twitter account: "I did NOT write any tweets on my twitter I haven't been on twitter since 6am. I went to chill with @Vkillemm at 3am... That's all."
However, the source said they don't really believe her, and they think she's headed for more trouble.
"Jenelle can get into a really dark place, and she needs to stop doing things that hurt her and get some help."
Article continues below advertisement
As RadarOnline.com previously reported, Courtland recently said that Jenelle's ex Kieffer Delp got her hooked on heroin, and now her close friends say they think she could be doing that again.
"Jenelle clearly hasn't kicked her addiction and we are afraid that she might be doing the really bad drugs again, but we don't know because we can't get a straight answer from her."
Courtland expressed his fears for his bride again on Twitter, writing: "I am so f*cking sad," but quickly wrote an apology to her.