Exclusive
That Was Fast… And Somewhat Surprising! Jenelle Evans Ties The Knot In Quickie 'Shotgun' Courthouse Wedding!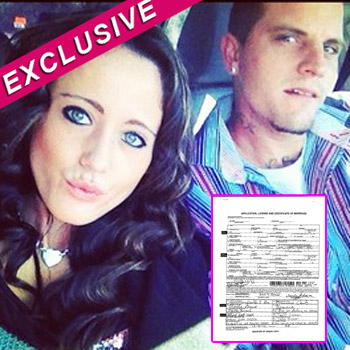 Article continues below advertisement
"My mother was totally shocked and had to hear it from someone else. Our whole family is shocked because they have not been dating very long. I'm sure she did this to distract from all the drug accusations that have been flying around and of course she thinks it will help her get custody of Jace back from mom if she is married.
"I got married two weeks before my 21st birthday and now she has gone and done the exact same thing. Very strange coincidence!
"At this point, after all that she has been through, she should know better than this," Ashleigh, who has a very tumultuous relationship with her younger sis, opined.
As RadarOnline.com previously reported, Jenelle and Courtland Rogers have only been dating around four months and engaged for just weeks, but they've known each other for more than 10 years.
Jenelle and Courtland got married in the North Carolina courthouse, accompanied only by two courthouse employee witnesses.
Article continues below advertisement
Courtland had already professed his undying love for Jenelle by getting her name tattooed on his chest last weekend - the tattoo is placed above his left pec just above his heart - and he shared with RadarOnline.com exclusively what prompted him to get the inking and what it means to him.
"I went to get a tattoo of Jenelle's first and last name because I wanted the whole world to not only see but to know who has my heart," Courtland explained.