Teen Mom Star Jenelle Evans Still In Hospital As Roommate Accuses Her Of Using Heroin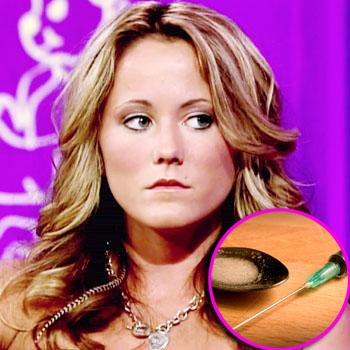 Teen Mom Jenelle Evans can't escape controversy even while she's in a hospital bed.
While the MTV reality star says she is having surgery for a ruptured ovarian cyst, her former roommate and another woman charge that Jenelle is using heroin, RadarOnline.com is reporting.
Jenelle's former best friend and roommate Allison said that she witnessed Jenelle using heroin.
During a Q&A on Twitter this week, Allison was asked how long Jenelle has been using and responded, "pretty much like a month after I moved, that's how she dropped weight so fast."
Article continues below advertisement
And another woman who claims to have been in the hospital with Jenelle says the star was going through heroin withdrawal.
"She's an addict, end of story," Allison tweeted on Thursday during a conversation about Jenelle.
Meanwhile Jenelle has denied all of the charges and blasted her sister Ashleigh Evans Wilson, saying: "Ashleigh is making stuff up on me so just avoid her…She is a (bleep) sister that tries to get attention."
Ashleigh publicly accused Jenelle's fiance Courtland Rogers of totaling her car – a charge that was followed by a photo showing extensive damage to the vehicle. Courtland then admitted to crashing the car.
As the drug charges against Jenelle continue to fly, she's in the hospital and the official story remains the same: she's having surgery for ruptured cysts. The drama, however, shows no signs of ending.