It's Official! 'Teen Mom' Star Jenelle Evans Engaged, But Why The Rush?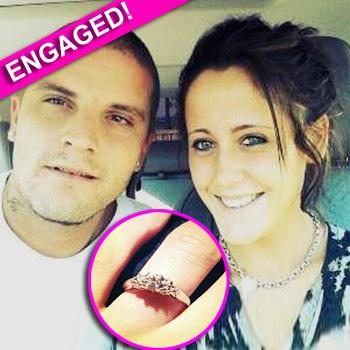 It's official. Troubled Teen Mom star Jenelle Evans is engaged to her boyfriend, Courtland Keith Rogers, RadarOnline.com has learned.
In a series of tweets Monday, Evans, 20, teased that she would have a 'HUGE SURPRISE' during an appearance on UStream during the second episode of the new season of Teen Mom airing that evening.
"I said yes," Evans posted overnight as she showed off her brand new engagement ring. This is the second engagement for Jenelle, who was previously engaged to Gary Head.
Article continues below advertisement
In a follow-up tweet about Rogers, she posted: "There is a huge reason why we r getting married so fast but too touchy of a subject. but I do love him to death."
She also included a link to a more detailed post about her engagement:
"Tomorrow we r going to start planning!! :) OMG I've never been this happy in my life. It's like a fantasy coming true. I'm going to be married to my best friend/lover/childhood sweetheart. He does anything for me and I do the same for him," "Teen Mom" star Jenelle Evans explained in her Facebook message. "I cried for like 30 minutes becuz I was so happy after I told him yes. Then told him "thank you" he said "why" I said "now I will have that family who's loves me for me I never ever had." I love u Courtland Keith Rogers. Ur my soulmate. I can't wait to spend everyday of every second with u <3."
Jenelle and Courtland met through a mutual friend several years ago but only began dating two months ago.
It's been quite a year for Evans -- in addition to problems with the law, she was recently treated for an ovarian cyst, and her announcement of being engaged comes exactly a week after she denied that she and Rogers kidnapped his daughter and even accusing his baby mama of smoking crack!
The MTV star does not have custody of her own 2-year-old son Jace, he lives with her mother Barbara Evans and she has been trying to get him back this year. (Jace's father is Evans' ex-boyfriend Andrew Lewis.)