Exclusive
Till Death Do Us Part, Or Ink Doth Fade! Jenelle Evans' New Fiance Gets Her Name Tattooed Across His Chest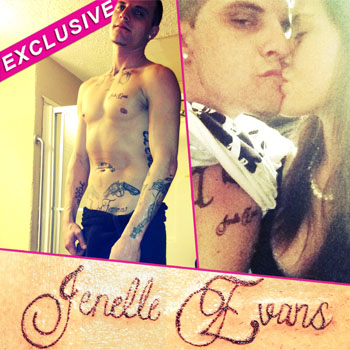 Article continues below advertisement
As RadarOnline.com previously reported, Jenelle tweeted the news of their engagement last week, shocking many of her followers and friends as the couple has only been dating a relatively short time.
However, Jenelle's husband-to-be tells RadarOnline.com that they had known each other for many years before becoming romantically involved and that he was inspired to get the tattoo by a desire to let the world know who truly has his heart.
"Jenelle and I have been friends for the past 10 years," Courtland tells RadarOnline.com in an exclusive interview.
"Recently we tried the whole relationship thing and for the past four months it has been perfect."
The tattoo is a cursive print of the Teen Mom's name, and Courtland shares that he wanted the inking to show off his commitment to the MTV star.
"We have finally realized our next move by engagement and on Saturday I went to get a tattoo of Jenelle's first and last name because I wanted the whole world to not only see but to know who has my heart."
Article continues below advertisement