Oh Baby! Jenelle Evans Shows Off Her Pregnancy Bump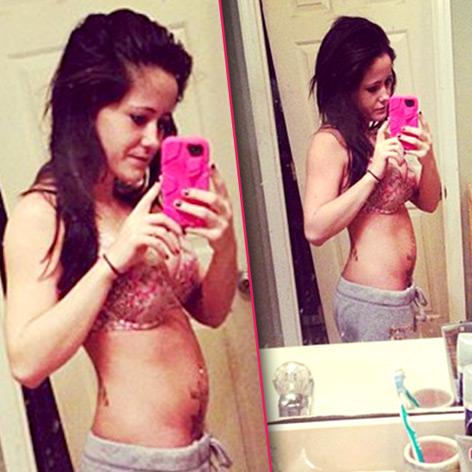 She may only be about seven weeks pregnant, but Jenelle Evans is already starting to show and RadarOnline.com has the photos of her with her baby bump!
As Star magazine exclusively reported, the 21-year-old Teen Mom star is expecting her second child around September 4, but she's already starting to show and she's proud to reveal her belly.
"My little angel!" Jenelle Tweeted and posed in the bathroom mirror wearing low slung sweat pants and a flowered bra to show off her tummy.
Article continues below advertisement
Her husband Courtland Rogers shared her six-week ultrasound pictures with RadarOnline.com and said that he was really excited about becoming a dad again.
Already a mom to her little boy Jace Evans, Jenelle revealed the good news that she can breast feed this baby, even though she had a boob job a few months ago.
Jenelle has been suffering from morning sickness during her pregnancy, and Courtland told RadarOnline.com that she feels differently than she did during her last pregnancy so they're hoping this baby is a girl.
Do you think Jenelle is having a girl? Tell us in comments!