'Teen Mom' Twitter War Escalates! Jenelle Evans' Ex-Boss Posts Naked Photo Of Her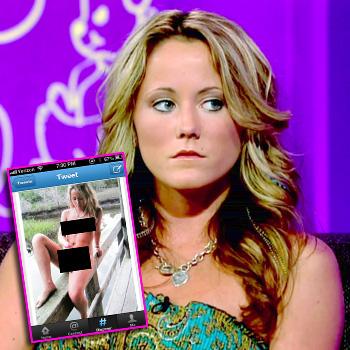 Jenelle Evans' former boss James Duffy is once again viciously taunting her -- on Tuesday night, he re-posted an old naked photo of her on Twitter and wrote a series of vulgar tweets directed at both the Teen Mom star and her new husband Courtland Rogers.
Along with the X-rated photo, he tweeted: "Jenelle, l didn't have to pay you for sex, you did that free for daddy."
On Wednesday, Evans indirectly responded to Duffy's Twitter tirade, responding to a follower: "no it's getting kinda old ... I mean that's all the ammo he's got?! it's hurts my loved ones.. That's what hurts"
Article continues below advertisement
As RadarOnline.com has previously reported, Evans, 21, and the much older Duffy have been engaged in an ugly war of words for months that escalated last September when Evans ranted against him in a post on her blog, Jaceandjenelle.com, painting him as a conman, among other things.
Of course, this is not the first time Evans has found herself in the middle of a naked photo scandal, and it's just the latest controversy she's found herself embroiled in. We've told you how Courtland's ex-fiancee has claimed he recently reached out to her, saying he was already miserable in his new marriage -- an accusation he denies.
Courtland dated and was engaged to North Carolina native Alicia Townsend before the two broke up and he eventually moved on with Jenelle, but in a recent interview, Alicia exclusively told us he recently reached out to her via Facebook, text message and phone calls.
"Courtland tried to reach me on Facebook and he ended up getting my number from a mutual acquaintance and texted me before finally calling me," Alicia told RadarOnline.com of their December 30 conversation.
Article continues below advertisement
"I asked him about married life and he said he wasn't happy and it wasn't going well. He said to me, 'I know it's not going to last.' I brought up how now that he's married to Jenelle he gets half of whatever she makes and asked if that's why he married her. He just got quiet and laughed."
Although Courtland denied texting with Alicia, RadarOnline.com has verified the communication between Courtland and Alicia on Sunday, December 30 and you can see text messages here.
"But I guess after our texts and stuff he didn't delete something and Jenelle found out and was furious that we were talking," Alicia said.
As RadarOnline.com previously reported, not only was the Teen Mom star jealous that Courtland was spending too much time on the phone with the mother of his daughter, but she was also jealous of Alicia and the two briefly broke up over it, before tying the knot in a surprise ceremony in December.
Article continues below advertisement
"I'm not in love with Courtland. I have love for him, because we have a history together, but it never, ever, ever is going to work," Alicia told RadarOnline.com.
"And I doubt it will work with Jenelle either. They're too much alike and too toxic for each other."
Meanwhile, Courtland says he's tired of "haters" picking on him, and in an exclusive interview with RadarOnline.com, he's coming clean about his past problems with drugs and his rehab stints .
"I am not perfect, but I'm working really hard now to live a good sober life for Jenelle and for my daughter," Courtland tells Radar.
The 26-year-old admitted that when he was younger he became addicted to prescription pills and has been in rehab twice.