Exclusive
Jenelle Evans' Hubby Tells Ex-Fiancée He's 'Not Happy' And 'Marriage Won't Last'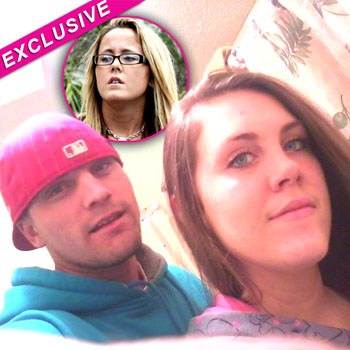 It's not all wedded bliss for newlyweds Jenelle Evans and Courtland Rogers because his ex-fiancée exclusively tells RadarOnline.com that he's reached out to her recently to tell her how miserable he is.
Courtland, 26, dated and was engaged to North Carolina native Alicia Townsend before the two broke up and he eventually moved on with Jenelle, but in an exclusive interview Alicia says he recently reached out to her via Facebook, text message and phone calls.
Article continues below advertisement
EXCLUSIVE PHOTOS: Courtland Rogers Texts Ex, Infuriates Jenelle Evans
"Courtland tried to reach me on Facebook and he ended up getting my number from a mutual acquaintance and texted me before finally calling me," Alicia told RadarOnline.com of their December 30 conversation.
"I asked him about married life and he said he wasn't happy and it wasn't going well. He said to me, 'I know it's not going to last.' I brought up how now that he's married to Jenelle he gets half of whatever she makes and asked if that's why he married her. He just got quiet and laughed."
RadarOnline.com has verified the communication between Courtland and Alicia on Sunday, December 30 and you can see text messages here.
"But I guess after our texts and stuff he didn't delete something and Jenelle found out and was furious that we were talking," Alicia said.
"I called him and had him put Jenelle on speaker so we could clear it up. Courtland was the one who reached out to me, and Jenelle was very rude and going off on me. I was upset that Courtland didn't own up to Jenelle that we talked on the phone! I had to hang up on her because she was going crazy.
Article continues below advertisement
"Jenelle made it out like it was me begging to get in touch with Courtland, but it was Courtland who asked to get in touch with me. I'm not trying to get back with Courtland AT ALL, but Jenelle just must be jealous because she was screaming nonsense."
As RadarOnline.com previously reported, not only was the Teen Mom star jealous that Courtland was spending too much time on the phone with the mother of his daughter, but she was also jealous of Alicia and the two broke up over it.
Alicia says after Jenelle and Courtland had their brief breakup they both changed their cell phone numbers but he called her again from a restricted number.
"I'm not in love with Courtland. I have love for him, because we have a history together, but it never, ever, ever is going to work," Alicia told RadarOnline.com.
"And I doubt it will work with Jenelle either. They're too much alike and too toxic for each other."