What Is The Westboro Baptist Church? Seven Things You Didn't Know About 'Hate Group' Threatening To Picket Sandy Hook Funerals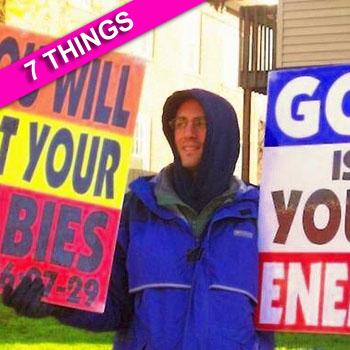 You've seen 'em before, crashing funerals for slain military heroes and high profile celebrities with their multi-colored signs bearing hateful messages such as "God Hates F**s," "The Jews Killed Jesus," and "Thank God For Dead Soldiers."
They're the Westboro Baptist Church, a Topeka, Kansas-based, shock-value-driven purported "church" led by Rev. Fred Phelps - infamous for touting their over-the-top bigoted messages against people of color, gays, Jews, the military and anyone associated with them, at the most somber of occasions to draw attention to themselves.
Article continues below advertisement
While their latest plan - to picket the funeral of Sandy Hook Elementary School shooting victims - is old hat, the group has found itself in the cross-hairs of the hacker group Anonymous.
Anonymous, disgusted with WBC's antics, have shed some uncomfortable light on the zealots, posting their personal information - names, phone numbers, e-mail and home addresses - online for all to see, with a special note saying, "WBC we know where you're sleeping tonight…"
On Wednesday, we should see even more fireworks when the group carries out its planned protest at the funeral of Sandy Hook's principal, Dawn Hochsprung.
That said, here's seven things you may not have known about Westboro Baptist Church:
7. They've been branded: Last month, members of the group were interviewed by Russell Brand. On his FX show, Brand X, Russell introduced church members Steve Drain and Timothy Phelps to a few of his openly gay friends and played a game called Heaven or Hell, where church members predicted Madonna and Gandhi were headed for Hades.
Article continues below advertisement
6. iDiots: Last year, the church used the funeral of Steve Jobs as a platform for a protest. After the death of the iconic head of Apple, church leader Margie J. Phelps tweeted: "Westboro will picket his funeral. He had a huge platform; gave God no glory & taught sin. MT @AP: Apple co-founder Steve Jobs has died at 56" … Ironically, from her iPhone. Hey, no one said they were the brightest apples in the bunch!
5. Sorry, no royalties: NBC's Law & Order franchise boast storylines that are "ripped from the headlines," and show creator Dick Wolf and co. played off the fanatical bunch for creative fodder in Abomination, a 2003 episode about the murder of a man who claimed a sexual re-education group "cured" him of being gay.
4. They Offended The KKK: The WBC's 2011 protest of a Memorial Day service at Arlington National Cemetery angered members of a Virginia Ku Klux Klan chapter called the Knights of the Southern Cross. The hooded fellow hate mongers were upset at the WBC for their anti-military messages and practice of protesting soldier funerals, with one KKK member quoted as saying, "It's the soldier that fought and died and gave them that right to free speech."
Article continues below advertisement
3. Roll Call: Among the funerals the WBC has protested include dozens of military heroes; former Mormon leader Gordon B. Hinckley; King of Pop Michael Jackson; iconic actress Elizabeth Taylor; heavy metal legend Ronnie James Dio; political wife Elizabeth Edwards; victims of the January 2011 shootings in Tucson, Arizona (in which Rep. Gabby Giffords was shot); and the 1998 death of openly gay college student Matthew Shepard, among others.
2. Move Over, Weird Al: Not only can they hold signs in public, the church has a full assortment of song parodies they've posted online. Notable titles include: This Land is F** Land (set to the tune of This Land is Our Land), I'm Ashamed To Be An American (set to Lee Greenwood's Proud To Be An American), Hey Jews (set to The Beatles' Hey Jude) and Santa Claus Will Take You To Hell (set to Santa Claus Is Coming To Town).
Article continues below advertisement
1. More Bark, Less Bite: Founded in 1955 by Pastor Fred Phelps, a disbarred lawyer, the "church" is widely described as a hate group and is monitored by the Anti-Defamation League and Southern Poverty Law Center. All the headlines the group has gotten for their publicity stunts has hidden the fact that membership is anemic, as Westboro admitted last year it only has about 40 members - predominantly consisting of members of the extended Phelps family.