EXCLUSIVE: Westboro Baptist Church 'Using Elizabeth Taylor's Death To Further Their Own Agenda' -- Says Friend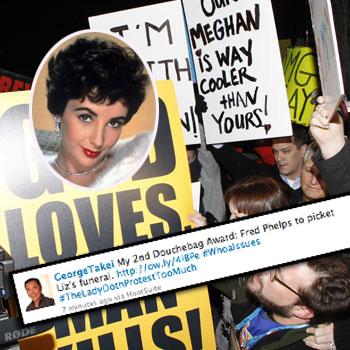 Elizabeth Taylor's close friend and personal assistant Sally Morrison has told RadarOnline.com: "I hope the Westboro Baptist Church does not picket her funeral."
The controversial ant-gay Baptist church had intimated after the screen legend's passing that they would target her funeral because of her work with HIV/AIDS patients.
Margie Phelps, a church member and legal spokesperson, used her Twitter account yesterday to launch a sickening and foul attack against the 79-year-old film icon and activist after her death.
Article continues below advertisement
She wrote: "No RIP Elizabeth Taylor who spent her life in adultery and enabling proud f*gs. They cuss her in hell today. #Westboro will picket funeral!"
TWEET PIC: See Star Trek's George Takei Message To Fred Phelps
And later:"Hello rebels! RIP Elizabeth Taylor is in hell as sure as you're reading this & getting mad as a wet hen. She should've obeyed God. Too late!"
Following the hateful statements Morrison told RadarOnline.com: "I hope the Westboro Baptist Church do not picket the funeral.
MORE ON:
Natasha Richardson
Article continues below advertisement
The Kansas based church – which was founded by Fred Phelps – has been actively involved in the anti-gay movement since 1991. They also are known for their hardcore anti-Semitic, anti-Catholic and racist stance.
It has 71 members - mostly from Phelps' large family – and has previously demonstrated at Elizabeth Edwards, Heath Ledger and Natasha Richardson's funerals in an attempt to garner publicity.
The Westboro is not affiliated with any known Baptist conventions or associations and is widely described as a hate group.