The Insults Come Free! Women Outraged After Rude Waiter Dubs Them 'Fat Girls' On Dinner Check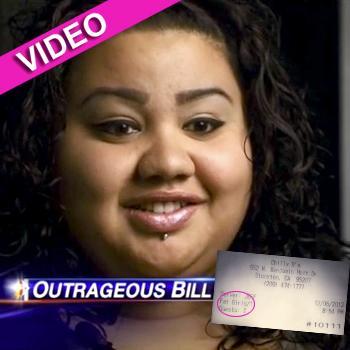 By Debbie Emery - RadarOnline.com Reporter
Instead of extra charges, three women got an insult added to their bill by a rude waiter at a California restaurant, RadarOnline.com is reporting.
"I got the bill, and I was like, why does the receipt say, 'fat girls?'" revealed Christina Duran, who said she couldn't believe her eyes when when she saw the imprint on the check for the trio's sodas and Tri-Tip at the Cameo Club Casino's restaurant in Stockton, reported ABC affiliate, News 10.
Article continues below advertisement
Not surprisingly, Duran's friends assumed she was joking, "I was laughing at her, and she was like, 'I'm serious.' I'm like, 'No, it does not say fat girls, let me see it,'" said Christina Huerta, who was also at the table along with Isabel Robles.
When the server, who was named only as Jeff on the receipt, returned he denied having anything to do with the insult but the three friends demanded to talk to the restaurant's manager.
"He had a smirk on his face, like it was funny, but he was trying not to laugh," said deeply offended Huerta. The manager initially offered a 25 percent discount, then upped it to 50 but the embarrassed women were still not satisfied.
"It's not funny. I can just see it over and over again, and I still can't believe it. They labeled us 'fat girls.' It's just something we have got to deal with."
While he wasn't working on the night in question, bar manager Jimmy Seimers later expressed his disgust at his employee's weight-discriminative insult.
MORE ON:
hollywood happenings
Article continues below advertisement
"I was really appalled, obviously, at the behavior," he said, explaining that Jeff has been suspended pending an investigation into the incident and would most likely lose his job.
"I just want to tell the women that we're sincerely sorry for that, and that we'll do everything in our power to make sure that this never happens to anyone ever again," Seimers pledged.
RELATED STORIES:
Tragedy Of The 600 Lb Single Mom With An Insatiable Appetite Who Ate Herself To Death