Anne Hathaway's Weight Woes: 'Am I Thin Enough? Am I Too Thin? Is My Body The Right Shape?'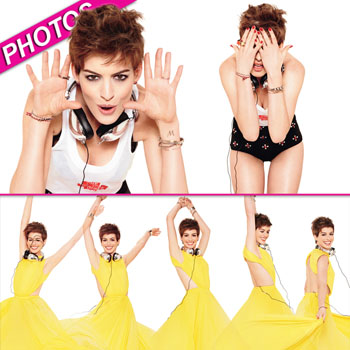 Despite her climb to the top of the A-list, Anne Hathaway admits she's quite self-conscious about her weight, and RadarOnline.com has the details.
The 30-year-old, who married Adam Shulman this past September, tells January's Glamour magazine, "I still feel the stress over 'Am I thin enough? Am I too thin? Is my body the right shape?'
"There's an obsessive quality to it that I thought I would've grown out of by now," said Anne, who lost 25 pounds for Les Miserables. "It's an ongoing source of shame for me."
Article continues below advertisement
The Devil Wears Prada beauty added that the white hot glare of the spotlight, and always having to keep up appearances, contributes to her stress.
"I just think about the ridicule you get if you have an off day," Anne told the magazine. "If people weren't watching, I'd be so much more eccentric. I know it makes me sound weak, but rather than make myself happy and wear the silly hat and say, 'Oh, I don't care.'
"I actually really don't feel like getting made fun of," she said. "So I put on something boring and navy and go out and try to disappear."
Glamour hits newsstands December 11.
Meanwhile, Les Miserables hits theaters in the U.S. on Christmas Day.
RELATED STORIES:
Anne Hathaway On Her 'Les Miz' Buzz Cut: 'I Looked Like My Gay Brother'
Anne Hathaway On 'Near Death' Starvation Diet For Les Miserables, 25 Pound Weight Loss 'Was Definitely Nuts'