Anne Hathaway On Her 'Les Miz' Buzz Cut: 'I Looked Like My Gay Brother'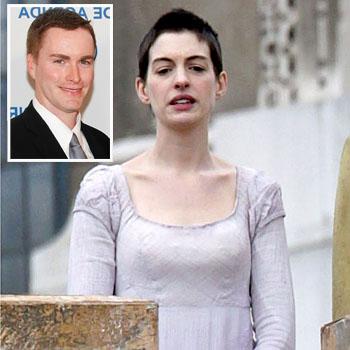 She took the brave step of shaving off her hair to play a diseased waif in the movie adaptation of the musical, Les Misérables.
But Anne Hathaway wasn't too shocked when she looked in the mirror after losing her shoulder length hair because she saw a familiar face – her gay brother!
Speaking at a New York screening of the movie on Friday, Hathaway said: "When I eventually looked in the mirror I just thought I looked like my gay brother."
Article continues below advertisement
It's not the first time the actress has spoken about her gay older brother Michael. Two years ago she told British GQ that she and her family left the Catholic Church because of its stance on homosexuality after he came out.
Hathaway said: "The whole family converted to Episcopalianism after my elder brother came out. Why should I support an organization that has a limited view of my beloved brother?"
As RadarOnline.com previously reported, Hathaway was so dedicated to playing the role of Fantine in Les Misérables that she shed 25 pounds from her already thin frame.
She lost the final 15 pounds by eating just two thin squares of dried oatmeal paste a day.
Hathaway said: "I had to be obsessive about it – the idea was to look near death."
RELATED STORIES: