Anne Hathaway On 'Near Death' Starvation Diet For Les Miserables, 25 Pound Weight Loss 'Was Definitely Nuts'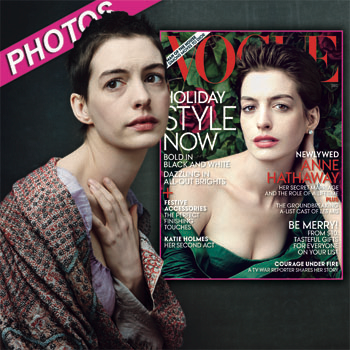 Two thin squares of dried oatmeal paste a day will definitely keep the pounds away!
Anne Hathaway, who dropped 25 pounds to play Fantine in Les Miserables, reveals her shocking and dangerous diet secrets in the December 2012 issue of Vogue, admitting that she starved herself to a crazy extent, and RadarOnline.com has the details.
The 30-year-old actress, who recently tied the knot to Adam Shulman, lost 10 pounds before she starting shooting the film by going on a strict cleanse, which resulted in a "gossamer quality" for the early scenes of the movie, but the next phase of the diet was a little more dangerous.
Article continues below advertisement
She took two weeks off filming and lost an additional 15 pounds by nearly starving herself on two thin squares of dried oatmeal paste a day.
"I had to be obsessive about it—the idea was to look near death," she explains about the dangerous diet. "Looking back on the whole experience—and I don't judge it in any way—it was definitely a little nuts. It was definitely a break with reality, but I think that's who Fantine is anyway."
However, after the movie wrapped, the weight loss had a lingering emotional effect on the actress.
"I was in such a state of deprivation—physical and emotional. When I got home, I couldn't react to the chaos of the world without being overwhelmed," she says. "It took me weeks till I felt like myself again."
This isn't the first time Hathaway has starved herself for a role. As RadarOnline.com previously reported, the actress lived on "kale and dust" in order to slip into her catsuit for The Dark Knight Rises.
Matthew McConaughey is the latest star to drop a dangerous amount of weight for a movie role, recently showing off his emaciated new look on the set of The Dallas Buyers Club.
RELATED STORIES:
Anne Hathaway Skewers Katie Holmes On 'SNL'
Anne Hathaway Spoofs Claire Danes And 'Homeland' In Hilarious 'SNL' Sketch
What Was Anne Hathaway's Broadway Surprise At Her Wedding?
Happily Married! Anne Hathaway Shows Off New Ring