10 Stars Who Have Dangerously Transformed Their Bodies For Movie Roles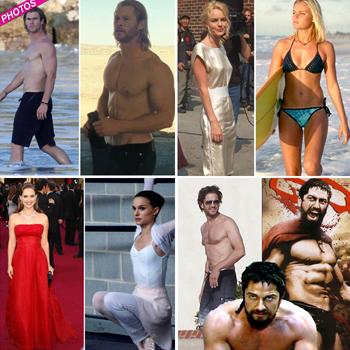 Hollywood stars will go to any lengths for their craft, even when their health is at stake!
From dangerous dieting and rigorous exercise to packing on the pounds with junk food, a bevy of stars have dangerously and dramatically transformed their bodies for a movie role, putting themselves in harm's way. RadarOnline.com has photos of 10 stars who have dangerously dropped pounds, gained weight and buffed up for movie roles.
Article continues below advertisement
After "living on kale and dust" to squeeze into her Catwoman suit, Anne Hathaway took on another role she had to diet for! The sexy actress was forced to drop an additional 16 pounds in just weeks to play a prostitute in Les Miserables.
If you want to win an Oscar, than take a hint from these stars, whose dramatic body transformation contributing to their Academy Award winning status!
Natalie Portman got scary skinny to play a ballerina in Black Swan, as did Christian Bale for his role as a drug addict in The Fighter.
The usually svelte Hilary Swank buffed up for Million Dollar Baby, while George Clooney went from hunk-to-chunk for Syriana and skinny girl Renee Zellweger got chubby for her Bridget Jones's Diary franchise.
What other stars have dangerously transformed their bodies for movie roles? Find out by clicking here.