Anne Hathaway's Con Ex-Boyfriend Wishes Her 'The Best'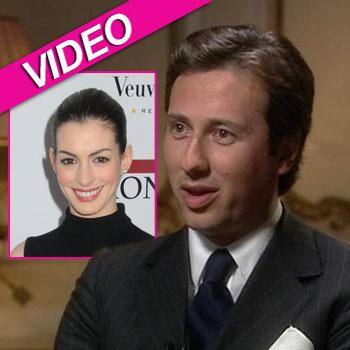 Anne Hathaway's embattled ex Raffaello Follieri Wednesday said he's happy The Devil Wears Prada stunner has found love again with fiance Adam Shulman.
"I want only the best for this person, she was very sweet to me -- we had, I think, a very nice relationship -- I don't have anything bad to say" Follieri told ABC News.
Follieri spoke to ABC from his native Italy after he was deported back there after spending nearly five years in a Pennsylvania prison following his guilty plea on charges of conspiracy, money laundering and wire fraud. (Anne and the businessman split prior to his 2008 arrest and haven't since spoken.)
Article continues below advertisement
"One thing that being in custody teach me is that is not worth it to be bitter because if you are bitter you never really going to be free," the 33-year-old Follieri said. "I'm not trying to clear my name -- I'm just try to go on and live my life."
Watch the video on RadarOnline.com
Follieri added that in life, a person has two choices: "One choice is to give up and be broken psychologically forever, or stay strong and overcome it.