Too Fat To Escape! Porky Prisoner's Plan Gets Foiled When He Gets Stuck In A Hole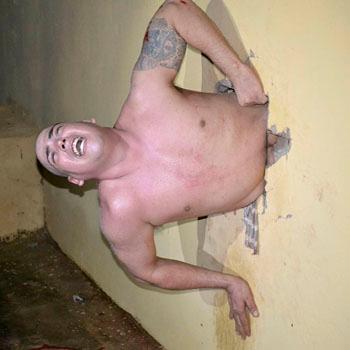 By Debbie Emery - RadarOnline.com Reporter
A Brazilian prisoner proved he was no criminal genius when his master plan of escape was foiled by his bulging belly, and RadarOnline.com has all the details.
Rafael Valadao was attempting to flee from the jail in Ceres, in the central Brazilian state of Goias through a getaway hole that another inmate had already crawled out of, but rather than following in his footsteps, the 28-year-old got wedged halfway through the gap that they smashed in their cell wall with a shower rod.
Article continues below advertisement
The convict no doubt wished he had spent more time in the exercise yard after he became the laughing stock of the prison guards as his bloodied upper body poked out of the concrete on one side, and his massive gut slipped out of the other.
The fire department was called out and after widening the hole in order to remove him, Valadao was returned back to custody with only a fractured rib to show for his troubles.
The other, reportedly slimmer, inmate managed to leap over another wall and remains at large. A bag full of his clothes was found in the electrified wires on the top of the fence that spans the perimeter of the prison.
According to Amnesty International's annual report in 2011, prison breaks are common in Brazil because of poor conditions.
"They remained severely overcrowded and inmates were held in conditions amounting to cruel, degrading or inhuman treatment. The authorities had effectively lost control of many facilities, leading to a series of riots and homicides."