REPORT: LiLo's Accuser Tiffany Mitchell Is 'Professional Liar,' Says Psychic's Former Client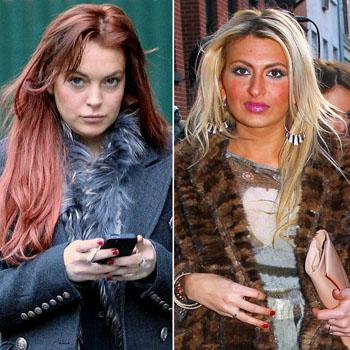 A Palm Beach socialite has come forward branding Lindsay Lohan's nightclub brawl accuser, Tiffany Mitchell, as a "professional liar."
"I feel bad for Lindsay," the former client, a fixture of the Palm Beach charity gala circuit, told GossipExtra.com, the south Florida celebrity news website that broke the story about Mitchell being a psychic.
As RadarOnline.com has been reporting, Lohan was arrested Thursday morning after allegedly punching Tiffany Mitchell in a Manhattan night club.
Article continues below advertisement
Several eyewitnesses have come forward and told us Lohan had been drinking and doing cocaine prior to the incident.
"I went to see (Mitchell) for about three weeks in November 2011," the Florida source said. She used fear tactics to make it seem that I could be in real trouble if I didn't pay her $43,000. She senses when people are vulnerable and when she can make money. I complained about her to Palm Beach Police but they didn't do anything about it. I didn't pay her, but I'm sure others in Palm Beach did. Tiffany is a professional liar!"
According to GossipExtra, the socialite said Mitchell told her to find a small antique box and place $43,000, in large bills, face up, at the bottom and add dirt from her beachfront home's garden, and paper with her life's goals written on them.
"She was very precise with her instructions," the philanthropist said, adding that she was told to bring the box to Mitchell after five days. "I was supposed to bring the box to for her to perform some ritual. But I never brought her the money because I knew I'd never get it back."
Article continues below advertisement
Asked about the allegations, Mitchell said, "I have no idea what you're talking about. I had no socialite clients. There was no such things. I have no comment. Call my lawyer."
Mitchell's attorney, Gloria Allred had no comment on the allegation.
And as RadarOnline.com previously reported, Lohan is claiming the incident that landed her in jail was a "set up" and her lawyer is insisting she'll be exonerated.