President Obama Pays Homage To 'Stressed' David Letterman & Others At 35th Annual Kennedy Center Honors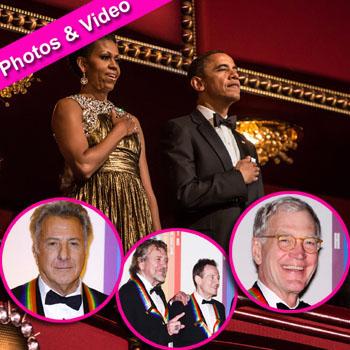 President Barack Obama paid homage to seven artists, including late night legend David Letterman, at Sunday night's Kennedy Center Honors in Washington, D.C., and RadarOnline.com has video and photos from the star-studded gala.
The annual ceremony honors artists who left their impact on the culture of the country; others celebrated at the event included Oscar-winning actor Dustin Hoffman, living Led Zeppelin members Jimmy Page, Robert Plant and John Paul Jones, blues musician Buddy Guy and ballerina Natalia Makarova.
Article continues below advertisement
The president hailed the eccentric group of entertainers as "some extraordinary people who have no business being on the same stage together."
The honorees "inspired us to see things in a new way, to hear things differently, to discover something within us or to appreciate how much beauty there is in the world," the president said. "It's that unique power that makes the arts so important."
He continued, "And it speaks to something that has always made this country great -- the idea that here in America, more than any other place on Earth, we are free to follow our own passions, explore our own gifts, wherever they may lead us. And people from all around the world come here to make sure that they too can provide us the incredible gifts that they have."
Turning his attention to Letterman, the president asked the late night veteran, "It's different when you're not the one with the mic, isn't it, Dave?"
"You're looking a little stressed, aren't you? I'd also point out it's a lot warmer here than it is on Dave's set," the president said, referring to Letterman's famously-frigid studio.
"Earlier this year, Dave celebrated his 30th anniversary in late night television -- the only person to reach that milestone besides Johnny Carson," the president said. "Now, Dave will be the first to tell you that he's no Carson, that all his years on television have only made him appreciate even more how unique Johnny was.
Article continues below advertisement
Watch the video on RadarOnline.com
"But that's a good thing, because if he were more like Johnny, he'd be less like Dave."
Letterman said the honor "supersedes everything, honestly…I haven't won that many awards."
During the ceremony, other celebs paid tribute to the gap-toothed Indiana-born comic.
Tina Fey asked, "Who was this Dave Letterman guy? Was he a brilliant, subtle passive-aggressive parody of a talk show host? Or just some Midwestern goon who was a little bit off?
"Time has proven that there's just really no way of knowing!"
Fey's 30 Rock co-star Alec Baldwin delivered a Top 10 list of reasons why Letterman won the award -- one of them being that he didn't abandon late-night for prime-time, a reference to Jay Leno's short-lived 10 p.m. show.
Letterman's late night rival Jimmy Kimmel admitted he idolized Dave from a young age, saying, "To me it wasn't just a TV show -- it was the reason I would fail to make love to a live woman for many, many years!"
The proceedings will be broadcast Wednesday, December 26 on CBS at 9/8c.
youtube