'Reluctant Hero' Neil Armstrong Dead At 82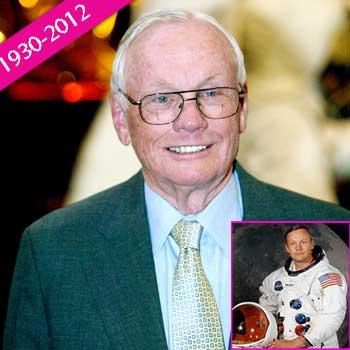 Legendary astronaut Neil Armstrong has died at the age of 82, RadarOnline.com has learned.
Armstrong -- who became an instant American icon in 1969 when he became the first man ever to walk on the moon  --  had heart-bypass surgery earlier this month to relieve blocked coronary arteries.  In a statement, his family said he died following complications resulting from the procedure.
"We are heartbroken to share the news that Neil Armstrong has passed away following complications resulting from cardiovascular procedures. Neil was our loving husband, father, grandfather, brother and friend. Neil Armstrong was also a reluctant American hero who always believed he was just doing his job.
Article continues below advertisement
"He served his Nation proudly, as a navy fighter pilot, test pilot, and astronaut. He also found success back home in his native Ohio in business and academia, and became a community leader in Cincinnati.  He remained an advocate of aviation and exploration throughout his life and never lost his boyhood wonder of these pursuits.
"As much as Neil cherished his privacy, he always appreciated the expressions of good will from people around the world and from all walks of life.
"While we mourn the loss of a very good man, we also celebrate his remarkable life and hope that it serves as an example to young people around the world to work hard to make their dreams come true, to be willing to explore and push the limits, and to selflessly serve a cause greater than themselves.
"For those who may ask what they can do to honor Neil, we have a simple request. Honor his example of service, accomplishment and modesty, and the next time you walk outside on a clear night and see the moon smiling down at you, think of Neil Armstrong and give him a wink," the statement concluded.
Article continues below advertisement
Armstrong made history on July 20, 1969, as half a billion people -- a sixth of the world's population at the time -- watched as he slowly backed down the ladder of the lunar landing ship Eagle as part of the Apollo 11 mission, planted his left foot on the moon's surface, and said the now iconic words: "That's one small step for a man, one giant leap for mankind."
Twenty minutes later his crewmate, Buzz Aldrin, joined him, and the world watched as the men spent the next two hours bounding around in the moon's light gravity, taking rock samples, setting up experiments, and  photographs.
"Isn't this fun?" Armstrong said over his radio link to Aldrin. The third member of the Apollo 11 crew, Michael L. Collins, orbited 60 miles overhead in the mission's command ship, Columbia.
The mission fulfilled a dream by President John F. Kennedy, who, in 1961, vowed to put a man on the moon by the end of the decade.
Kennedy wouldn't live to see his dream fulfilled, but President Richard Nixon called their eight-day trip to the moon "the greatest week in the history of the world since the Creation."
Article continues below advertisement
On Saturday, former astronaut turned Senator John Glenn called Armstrong "a good friend who will be missed."  Glenn said he remained humbled long after his historic flight.
The extremely private former astronaut -- who rarely gave interviews and even felt uncomfortable signing autographs -- lived in Cincinnati and is survived by his wife Carol and two of his three children.