At Last, Something For Demi To Smile About! Mila Kunis Is Looking Less Than Glamorous With Ashton Kutcher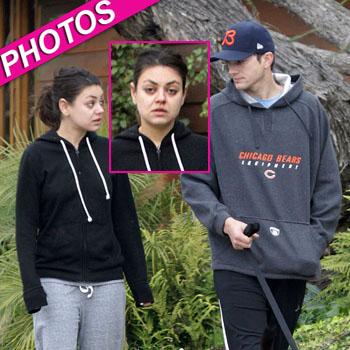 Most women have been there at some point — tortured over their ex's gorgeous new girlfriend.
So, there's a strong chance that some new, less than glamorous, pics of Mila Kunis looking far from her best while walking with Demi Moore's estranged husband, Ashton Kutcher, will afford the 50-year-old actress at least a fleeting moment of satisfaction!
They only went public with their romance a few months ago but Kunis and Kutcher appear to have already given up on dressing up for one another.
Article continues below advertisement
The A-list couple looked as though they had just rolled out of bed Wednesday as they took their dogs for a walk in Los Angeles, Calif. dressed in matching sweatpants.
Kunis clearly wasn't concerned about her beau seeing her without her make-up as she stepped out bare faced. And, instead of showing off her famous figure, the Black Swan actress swamped her frame with a black sweatshirt and baggy grey bottoms.
Meanwhile, Kutcher didn't look like he had spent long picking out his outfit either and teamed his laid back ensemble with a baseball cap.
The pair, who have been friends since they starred in That 70's Show together, have been inseparable since becoming a couple earlier this year, and they will be free to take their romance to the next level once Ashton's divorce from Demi is finalized.
However, When that will be is anyone's guess!
Article continues below advertisement
As RadarOnline.com previously reported, the former couple has yet to file for divorce despite separating more than a year ago after news broke of Kutcher's passionate fling with a San Diego party girl.
A source close to the situation told RadarOnline.com that Demi has been delaying divorce proceedings as she is furious that Ashton has moved on so quickly, and publicly, with Mila.
"Even though Ashton cheated on her all the time, it was with random girls, it wasn't a relationship like it is with Mila and that is what is killing Demi now," the source said.
"Seeing photos of him kissing another woman is too much for her to handle, it's like having her nose rubbed in it time and time again. She kind of knew it was definitely over between them but I think she was still holding out a little hope for a reconciliation — now he's actually dating someone else she knows that's not going to happen.
"Each time Demi hears about Ashton and Mila it breaks her heart. She really loved him despite the flaws in their marriage and to see him dating someone new, who is so much younger than she is, is like a knife in her heart."