Exclusive
Demi Moore 'Heartbroken' Over Ashton Kutcher Mila Kunis Romance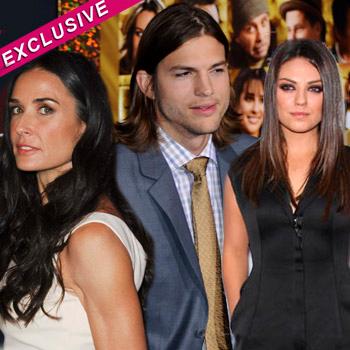 Article continues below advertisement
"Even though Ashton cheated on her all the time, it was with random girls, it wasn't a relationship like it is with Mila and that is what is killing Demi now.
"Seeing photos of him kissing another woman is too much for her to handle, it's like having her nose rubbed in it time and time again. She kind of knew it was definitely over between them but I think she was still holding out a little hope for a reconciliation — now he's actually dating someone else she knows that's not going to happen."
As RadarOnline.com previously reported, Demi and Ashton have run into each other since she has returned from rehab, but he's now obviously moved on with a new romance.
"Each time Demi hears about Ashton and Mila it breaks her heart. She really loved him despite the flaws in their marriage and to see him dating someone new, who is so much younger than she is, is like a knife in her heart," the source says.
Article continues below advertisement
Demi is also estranged from her three daughters, and one reason is because the girls refuse to stop talking to Ashton.
"The girls have all stayed friends with Ashton, and that is infuriating Demi," a source close to the girls previously told RadarOnline.com about the situation.
While Demi has returned to work, filming in New York City, the turmoil in her personal life is worrying her friends.
"Demi is in a fragile state right now and with the fights with her daughters and hearing how sad she is about Ashton and Mila everyone is afraid of how she's handling all the stress," her friend says.