Exclusive
Lindsay Lohan 'Freaked Out' About Prospect Of Spending Time Behind Bars During Holidays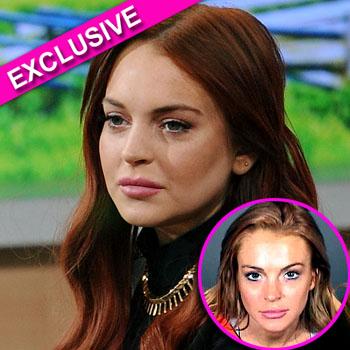 By Jen Heger - RadarOnline.com Assistant Managing Editor
Lindsay Lohan is "freaked out" about the prospect of spending time behind bars during the Christmas and New Year's holidays and has told her lawyer to do whatever it takes to make sure the starlet isn't sent back to jail for violating her probation, RadarOnline.com is exclusively reporting.
"Lindsay is absolutely freaked out about the possibility of going back to jail because she allegedly violated her probation in her necklace theft case when she was formally charged with lying top cops after a horrific car crash last summer in Santa Monica. Lindsay knows it's almost a foregone conclusion that even if she admits to the probation violation without having a formal hearing, and throws herself at the mercy of the judge, she would be sentenced to significant jail time," a source close to the situation tells RadarOnline.com exclusively.
Article continues below advertisement
"Lindsay's arraignment for the new charges is scheduled for December 15, and she isn't required to appear because she was charged with misdemeanors. However, the judge could order her to appear because of her lengthy criminal history. Lindsay is facing about 253 days behind bars, if she is found guilty of violating her probation, and she would serve 25% of that sentence because of overcrowding in jails in Los Angeles. Lindsay would serve about 63 days behind bars. Lindsay was locked up in 2010 for 13 days for violating probation in her DUI case, and said it was the darkest time of her life. If Lindsay could sell a body part to keep her out of jail, she would. She is that desperate about the thought of going back to jail," the insider added.
Last Thursday -- the same day the Liz & Dick star, 26, was arrested for allegedly punching Tiffany Mitchell at a club in New York City -- she was formally charged in Los Angeles, with providing false information to authorities, reckless driving and obstructing or resisting a police officer in the performance of his duty.
The troubled actress told cops she was a passenger in the Porsche that crashed into the back of a big-rig truck on the Pacific Coast Highway in Santa Monica, California this past summer, but the police investigation later revealed she was actually the driver.
MORE ON:
Celebrity Justice
Article continues below advertisement
The charges are a direct violation of her 2011 probation in connection with her conviction for stealing jewelry from a Venice boutique.
"Lohan isn't taking the new criminal charges in Los Angeles seriously. She will plead guilty to the new charges if she is guaranteed by the judge that she won't go to jail. Lindsay feels that she has a fantastic attorney in Shawn Holley who will be able to work her legal prowess and make this all go away, again," the insider says.
In regard to her latest arrest last week, Lindsay was taken into custody around 4 a.m. on Thursday morning in Manhattan after allegedly punching clubgoer Tiffany Mitchell in the face at Avenue nightclub.
"Lindsay went wild. She was kicking and screaming, cursing at the girl and then spit at her. The girl looked like she wanted to fight back at Lindsay, but was too startled by all the commotion to react. Lindsay was completely out of control. She was drinking way too much booze and was doing cocaine," a source previously told RadarOnline.comexclusively.