LeAnn Rimes Catching Flack After Bizarre Duet On The X Factor, Fans Speculate She'd Been Drinking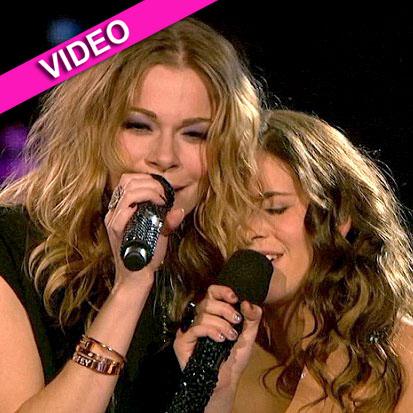 By Neil Woulfe - Radar Senior News Director
LeAnn Rimes is still catching flack -- only this time, it's not from her nemesis Brandi Glanville.
The 30-year-old country star -- who recently was treated for "anxiety and stress" -- performed a duet Wednesday night on Fox's The X Factor, singing the classic hit How Do I Live with 13-year-old contestant Carly Rose Sonenclar -- and to call Rimes performance over the top would be an understatement, leading to speculation that perhaps, she had been drinking prior to taking the stage.
Article continues below advertisement
The Huffington Post labeled her performance as "uneven and uncomfortable" and pointed out that during the song, "Rimes even gripped onto Sonenclar during the performance. Her voice didn't seem to have its usual strength, leading some fans to speculate online that she might have been drinking. When it ended, she declared, 'Oh my god, she's such an amazing talent I want to wrap her up and just hold her,' Rimes said. 'You're doin' it!' Mario Lopez replied."
The UK's Daily Mail also reported on Rimes' bizarre performance and her apparent attempt to out-sing the young competitor in an attempt to upstage her.
"The X Factor is supposed to be about the finalists, not the stars," the Mail wrote.
"But someone forgot to give LeAnn Rimes that memo when she performed a duet on the final show with 13-year-old Carly Rose Sonenclar, a schoolgirl from Westchester, New York," the Mail continued.
Article continues below advertisement
The Hollywood Reporter wrote that Rimes wasn't feeling well during her performance, which may explain her odd behavior, but Hollywood Life went a step further and declared Rimes "one big, hot mess."
Not surprisingly, the judges on The X Factor sang a different tune.
"They were shockingly amazing, so great," said Britney Spears, who appeared to be on the verge of tears during the performance.
As for Carly Rose, she graciously called the song "one of the most fun moments I have had on stage."
Article continues below advertisement
"It's out of control, the way LeAnn stalks Brandi," an insider tells Star. "Even LeAnn's friends think it's weird, but she can't seem to help herself.
"If Brandi tweets a picture of herself in a bikini, LeAnn does the same thing. If Brandi talks about becoming a dermatologist, LeAnn suddenly starts talking about it on Twitter…it's really strange!"
PHOTO: LeAnn Rimes & Brandi Glanville -- BFFs?
Brandi, 40, has picked up on the Single White Female vibes from LeAnn -- and has blasted the 30-year-old singer for her copycat ways.
This past Tuesday, Rimes appeared on The Tonight Show with Jay Leno and opened up about her affair with Cibrian and toll it's taken on her. When asked about Glanville, the singer said: "Here's the therapy coming out of me. I should feel flattered that she thinks I'm so interesting that I can be a storyline in her show."
youtube