RIP Jenni Rivera: Latina Superstar's Remains Found Amid Plane Wreckage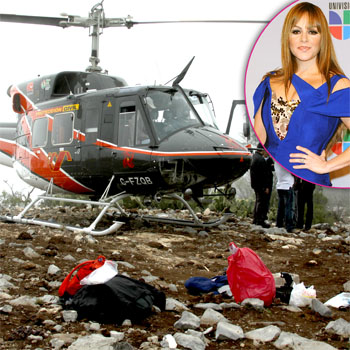 By Jon Boon - RadarOnline.com Reporter
The remains of Latina superstar Jenni Rivera have been discovered and turned over to her family, RadarOnline.com is reporting.
The Mexican-American singer, who tragically lost her life in a plane crash last Sunday, was confirmed dead by a spokesman for Mexico's Nuevo Leon state, CNN reports.
The remains of Rivera's publicist and the plane's co-pilot were also found – but it remains unclear as to how officials identified the remains at this time.
Article continues below advertisement
As RadarOnline.com previously reported, Rivera was tragically killed when her plane plummeted 28,000 feet from the sky in a nose-dive at more than 600 miles an hour and crashed in Northern Mexico.
"The impact must have been terrible," Secretary of Communications and Transportation Gerardo Ruiz Esparza told Radio Formula, according to LatinoFoxNews.com, however he did not offer an explanation as to what may have caused the horrific crash that killed six people.
However, conspiracy theorists minds have been working in overdrive following reports that the Learjet was registered to a company owned by Christian Esquino Nunez – a man accused of having links to a violent Tijuana drug cartel.
Nunez, whose whereabouts are presently unknown, has been accused by federal prosecutors of having ties to the Tijuana cartel operated by the Arrellano-Felix brothers. He has also been accused of helping to smuggle Libyan dictator Muammar Gaddafi's son, Saadi, into Mexico.
Article continues below advertisement
Back in 1993, Nunez was indicted in Florida on drug trafficking charges. The U.S. Attorney for the Middle District of Florida accused Nunez of providing aircrafts to smugglers who transported 487 kilograms of cocaine from Colombia to South Florida.
Nunez pleaded guilty to conspiring to conceal from the IRS and was given a 5 year prison sentence. Then, in 2005, Nunez was convicted on charges of creating fraudulent logbooks for six planes.