Who Was Jenni Rivera? Seven Things You Didn't Know About The Superstar Tragically Killed In Plane Crash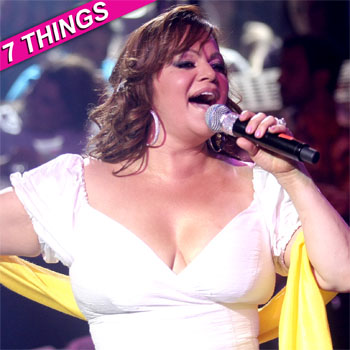 When the news of the tragic death of Mexican-American singer Jenni Rivera was announced Sunday, Latin America went into mourning.
The bilingual Rivera, who was one of the biggest stars of the banda genre, a brassy, percussive style of pop music invented in northern Mexico, died when her private plane crashed outside Monterrey, Mexico where she had earlier performed. She was just 43.
Although Rivera wasn't as much of a household name in the U.S. as she was in Mexico at the time of her premature death, she was in talks to produce a sitcom for ABC and had just been signed by Hollywood talent agency CAA. If she had lived, her talent most certainly would have been appreciated by a wider audience and she would have achieved yet another milestone in her already successful career.
Article continues below advertisement
Here are seven things you should know about Jenni:
1. While Jenni Rivera might not have been a household name to many outside of Mexico and Latin America, she has sold more than 15 million albums worldwide and was nominated at the 2003, 2008 and 2010 Latin Grammys. In 2010, she became the first female banda artist to sell out back-to-back nights at the Nokia Theatre in Los Angeles.
2. After conquering the music world, Jenni turned her hand to reality TV and became a successful business woman. She produced Jenni Rivera Presents: Chiquis & Raq-C, which featured her oldest daughter Janney Marin and produced and starred in her own shows, I Love Jenni in 2011 and Chiquis 'n Control in 2012. She also started companies including, Divina Realty, Divina Cosmetics, Jenni Rivera Fragrance, Jenni Jeans, Divine Music and The Jenni Rivera Love Foundation.
3. Jenni achieved all of this against the odds. Born in Long Beach, Calif. to Mexican immigrants, she grew up with four brothers and a sister. While still in high school she became pregnant with the first of her five children.
4. Musical talent runs in her family. Jenni's brother Lupillo Rivera has amassed a $12.5 million fortune from his pop career and won a Grammy Award for Best Banda Album in 2010. He also cheated death in 2006 when his SUV was shot at seven times in Guadalajara in what was believed to have been an organized hit!
Article continues below advertisement
5. One thing Jenni couldn't find success at was marriage. After a stormy 8-year marriage to Jose Trinidad Marin that ended in 1992, she married Juan Lopez in 1997. Six years later, they divorced and she was soon walking down the aisle for a third time with baseball player Esteban Loaiza in 2010. However, in 2012 divorce papers were filed and in a statement by Jenni's rep the split was said to be due to "irreconcilable differences on behalf of both parties derived from private circumstances that occurred during the lapse of their two-year marriage."
6. In 2007, Jenni's first husband Jose Marin was convicted of sexually molesting her daughter Chiquis and sister-in-law Rosie. Marin was originally a fugitive in the case which opened in 1997. He was sentenced to 31 years behind bars.
7. In 2010, Jenni was named spokesperson for the National Coalition Against Domestic Violence. A proclamation was given "officially naming" August 6 "Jenni Rivera Day" by the Los Angeles City Council for all her charity work and involvement in the community.