Jenni Rivera's Plane Nose-Dived From 28,000 Feet, Chilling Photos Of Crash Site Released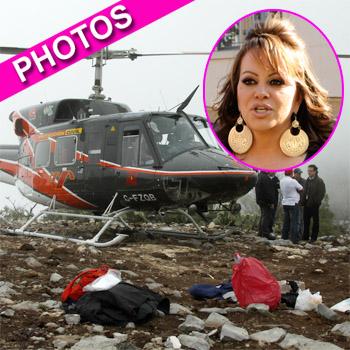 By Debbie Emery - RadarOnline.com Reporter
The scattered remnants of Mexican-American singer Jenni Rivera's plane give a shocking visual indication of the extreme impact with which she and her fellow passengers crashed to the ground Sunday.
Twisted debris laid out across the El Tejocote ranch in Northern Mexico is all that remains of the twin-engine turbojet that plummeted 28,000 feet from the sky in a nose-dive at more than 600 miles an hour, and RadarOnline.com has chilling photos of the remains.
Article continues below advertisement
"The impact must have been terrible," Secretary of Communications and Transportation Gerardo Ruiz Esparza told Radio Formula, according to LatinoFoxNews.com, however he did not offer an explanation of what may have caused the crash that killed six people.
As RadarOnline.com previously reported, the I Love Jenni star was killed last Sunday, along with three other passengers and two pilots. Rivera, nicknamed "Diva de la Banda," was born in Long Beach, Calif. Her impressive career accolades include more than 15 million records sold, three Latin Grammy nominations, and a pair of Billboard Mexican Music Awards more recently.
The thrice-married 43-year-old, who recently divorced former Los Angeles Dodgers pitcher Esteban Loaiza, is survived by five kids and two grandkids.
Ruiz revealed that the pilot of the plane, Miguel Perez Soto, had a valid Mexican pilot's license that would have expired in January. Photos of a temporary pilot's certificate issued by the U.S. Federal Aviation Administration and found amid the wreckage said that Perez was 78, but while there is no age limit for flying a civil aviation aircraft, for commercial flights it's 65 and 78 would be deemed old in the U.S.
Article continues below advertisement
Investigators said it would take days to piece together the wreckage of the plane and find out why it went down, and it is expected to be at least 10 days before a full report is issued.
Human remains have been found in the wreckage and now investigators are conducting DNA tests to accurately identify the victims for their families.
Despite the path of destruction strewn across the countryside, Jenni's mother Rosa Saavedra, is still hoping for a miracle.
"I still trust God that perhaps the body isn't hers," Saavedra said in a press conference Tuesday, adding that she could have been kidnapped and that it was another woman's body at the crash site. "We're hoping it's not true, that perhaps someone took her and left another woman there."
RELATED STORIES:
Jenni Rivera's Crashed Plane Registered To Company Linked To Mexican Drug Cartel, Claims Report
Jenni Rivera's Family Clinging On To Hope That Latina Superstar Did Not Die In Plane Crash & Is Still Alive