Exclusive
Emily & Jef Round Two? Inside Maynard & Holm's Very Cozy Secret Charlotte Rendezvous!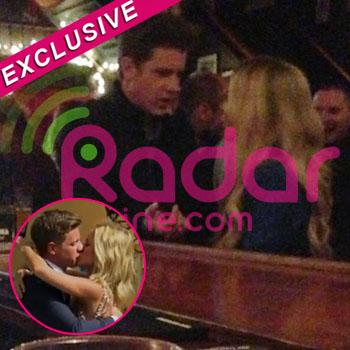 Article continues below advertisement
"Emily sat on a stool at the bar while Jef stood facing her between her legs. It was obvious they were having some sort of deep conversation, but Emily also had her arms hanging around his neck affectionately at one point," the eyewitness exclusively told RadarOnline.com.
"I was surprised at how into each other they were acting because it was clear that they were trying to go unnoticed and didn't want attention from anyone. From what I could overhear, they were having a discussion about their relationship status."
At one point, the eyewitness says Jef noticed another bar patron trying to take a picture of them and the two got into a physical altercation!
"Jef got physical with some guy over taking a photo so Emily grabbed his cheeks with both hands and was like, 'Stop, calm down,'" the source explained.
"The guy who tried to take the photo was told to leave the bar by management. Jef was either being protective of Emily or he just didn't want them photographed at all."
Article continues below advertisement