Exclusive
Emily Maynard 'Majorly Feuding' With Daughter's Grandparents Over Concerns She's Putting Fame Before Motherhood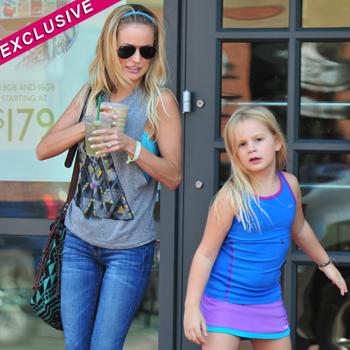 Emily Maynard is "majorly feuding" with her daughter's grandparents, Rick and Linda Hendrick, as concerns grow that the former Bachelorette is putting her career and thirst for fame before the best interests of seven-year-old Josephine Riddick "Ricki" Hendrick, a source close to the situation tells RadarOnline.com exclusively.
As we previously reported, Maynard is eyeing a move to Hollywood for her and Ricki as she is keen to secure a full-time career in TV, preferably with her own talk show.
Article continues below advertisement
EXCLUSIVE PHOTOS: Bachelor Reunion Pics
"Rick and Linda were horrified by the news that Emily wants to move to California," the source says. "They can't bear the thought of Ricki being that far away from them, she is the one thing that makes the pain of losing their son tolerable. They see so much of Ricky in their granddaughter, they love her to pieces and have become incredibly close to her -- she keeps the memory of Ricky alive.
"Both Rick and Linda are concerned that Emily is putting her own thirst for fame before the best interests of her daughter, and that as Ricki isn't able to have her father in her life it is even more important for her to be surrounded by close family and that obviously wouldn't be the case if she was moved from North Carolina to California. The issue has caused a huge rift between Emily, Rick and Linda."
Article continues below advertisement
As RadarOnline.com previously reported, the relationship between Maynard and the Hendrick family has been fractured ever since the 26-year-old agreed to take part in the Bachelorette. US Weekly reported earlier this year that the grandparents were "livid" over Emily's decision to allow Ricki to be filmed as part of the show and that the three adults were barely speaking as a result -- and RadarOnline.com's source says things have only gone downhill since.
"Rick, Linda and Emily do not speak at all now, aside from having to make arrangements regarding Ricki," the source says. "They are majorly feuding and I don't see a resolution being reached anytime soon. It's pretty much the general consensus back home that fame has drastically changed Emily, it's gone to her head, and Rick and Linda are concerned over how that is affecting their granddaughter. They believe it is important for a child to be installed with a strong set of morals and to enjoy a stable upbringing and they are worried that's not the case right now as Emily appears more concerned with making it big than being a mom."
Article continues below advertisement
The source says that Rick especially is concerned about the little girl's wellbeing and has asked Ricki's school to keep a close eye on her and report back on any unusual behavior.
"Prior to the start of the school year, Rick approached one of Ricki's teachers and personally asked for his granddaughter's behavior to be watched, because he was deeply concerned with how Emily's choices were affecting his granddaughter and that she would start acting up," the source explains.