Exclusive
Stars In Her Eyes! Emily Maynard Planning A Move To Hollywood To Pursue TV Career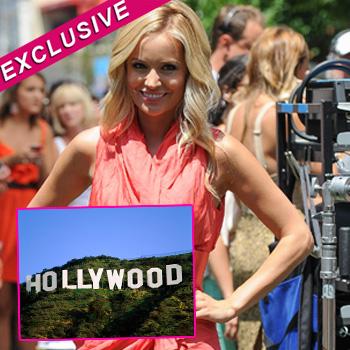 By Jen Heger - Radar Assistant Managing Editor
Warning: This story contains a major spoiler!
Emily Maynard is eyeing a move from North Carolina to Hollywood to pursue her dream of a TV career, RadarOnline.com is exclusively reporting.
As we previously reported, Maynard will be getting engaged in the season finale of The Bachelorette this Sunday and the blonde cutie is hoping to do a spin-off show that would feature the bride-to-be planning for the big day!
Article continues below advertisement
"Emily is head over heels in love after a beautiful proposal in Curacao," a source close to the 26-year-old single mother revealed.
"Jef Holm got down on one knee and asked Emily to marry him and she said yes!"
"Emily absolutely has plans to move to Hollywood and she can't wait to get out of North Carolina," a source close to the situation tells Radar. "It will be a good change for her daughter, but she also thinks it's the best time for them to move. Emily wants to live where all the action is and that means Hollywood. Emily wants to do a spin-off show about the wedding planning and build a brand. She would love to have her own talk show one day and she has instructed her manager to look into all potential offers and make it happen. Emily is one determined young lady, is very bright and she always gets what she wants."
Emily is the first single mom in the show's eight-season history, and her 6-year-old daughter Ricki has been a featured topic on the show. Emily's fiance and baby daddy, NASCAR driver Ricky Hendrick died in a 2004 plane crash while she was pregnant.
The Bachelorette beauty hasn't inked the deal for the spin-off show yet because she's still waiting for the world to learn that she's engaged.
Article continues below advertisement
"Emily can't formally have discussions yet because the finale hasn't aired," the source previously told Radar. "But she's really excited to get the date, location and all of the details set so that she can marry Jef and having it air on TV fits in perfectly with her plans."
The season finale of The Bachelorette airs Sunday, July 22 on ABC.
RELATED STORIES:
Ousted Bachelorette Contender Sean Lowe: 'It Exhausted Me Dating Emily'