Exclusive
The Bachelorette Has Never Been So Close! 'It Was A Three Horse Race To The End,' Reveals Chris Harrison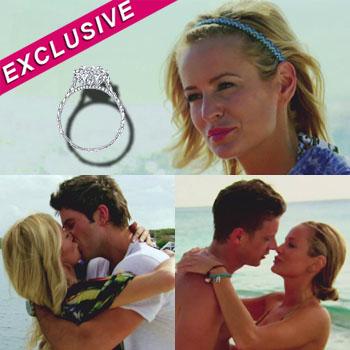 Article continues below advertisement
"They could not have been more divided on the final three between Sean, Arie and Jef. Obviously Sean was just bid adieu, but before that this has been a three-horse race coming to the end," he explained.
EXCLUSIVE PHOTOS: Bachelor Reunion Pics
"We've never had three guys like this and a Bachelorette who has really been falling for all of them in a way. It's been an extraordinary season."
Now that former frontrunner Sean Lowe has already been kicked to the curb, the final rose decision will be a winner either way, predicts Harrison.
"Once she narrowed it down to those three then she couldn't go wrong – they all love her, they all respect her, they're all great with Ricki, they all offered her different lifestyles, and they are very similar in the way they treated her," he gushed.
For the first time in its history, the franchise traveled across the country and set up shop in Charlotte, North Carolina, so that the single mom didn't have to relocate her family.
Article continues below advertisement
"Taking the show on the road and being in her hometown was huge, but having Ricki around really made this season completely different," Chris explained to RadarOnline.com. "It's a soap opera, it changes every season and is never the same.
As to whether they will base future seasons in different cities, Harrison said that remains to be seen. "It really is dictated by the Bachelorette or Bachelor as it has become so organic, it wouldn't make sense for everybody but it made sense for Emily."