Bachelorette Emily Maynard Feuding With Daughter's Grandparents, They're 'Livid' She's On The Show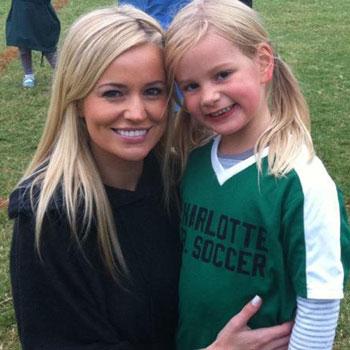 This season's Bachelorette Emily Maynard is reportedly embroiled in a bitter feud with the parents of her deceased fiancé, race car driver Ricky Hendrick.
They are said to be upset that the 26-year-old blonde beauty is allowing her six-year-old daughter, Ricki, with their late son, be filmed.
Emily is still receiving financial support from the Ricky's parents, according to Us Weekly but they are not communicating anymore.
Article continues below advertisement
"When Emily went on The Bachelor, they weren't pleased, but they supported her," a source told Us. "Now they're not speaking. They don't want their grandchild in the spotlight. They are private people."
Emily tried to placate them by filming Season 8 in her hometown of Charlotte, North Carolina instead of the usual location of Los Angeles.
"They didn't want Ricki uprooted," the insider added. "They also wanted Ricki kept out of the spotlight, not exploited."
Emily had won Brad Womack's heart in Season 15 of The Bachelor and got engaged but their relationship quickly fizzled out. Soon after she signed on to become the one doing the choosing and travelled around the world earlier this year with a bunch of potential suitors in her bid to find a husband and father figure for Ricki.
As RadarOnline.com previously reported, Emily has found love again and is engaged but who she has picked will not be revealed until the season finale on July 16.
Article continues below advertisement
But other sources told Us that Emily has become "difficult" since becoming famous with the hit ABC show.
"She is painted in this Mother Teresa light," a show insider said. "She is a nice girl, but she isn't as good as she's made out to be. She knew she was the star, so she became a bit of a diva."
EXCLUSIVE PHOTOS: Bachelor Reunion Pics
Ricky Hendrick died in a plane crash in 2004 while Emily was pregnant with Ricki.